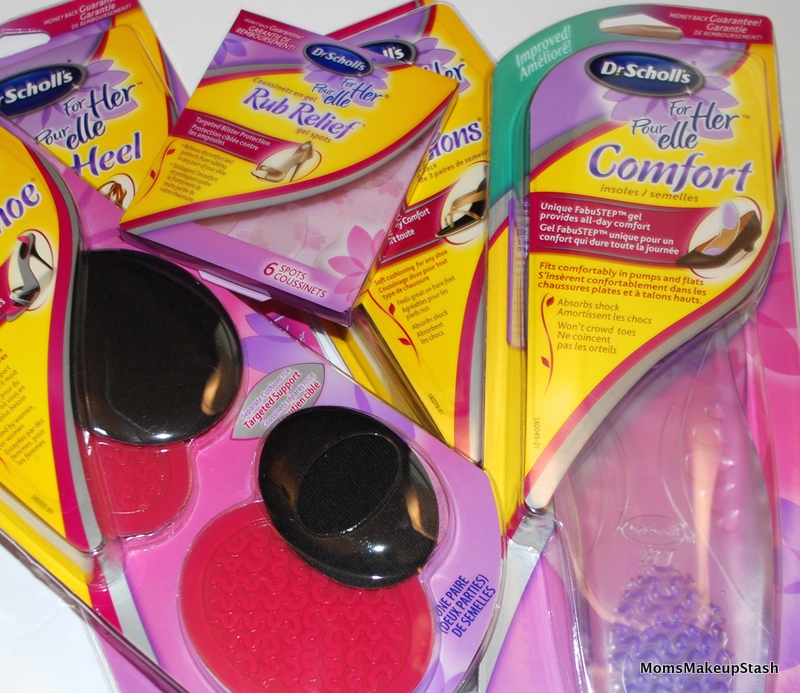 Hi beauties! There is nothing worse than uncomfortable shoes or throbbing feet when you are trekking around town or standing on your feet all day. 
It's hard to be fashionable when you are in pain, and by "pain" I mean aching, blistered feet that I'm sure we've all experienced when breaking in new shoes. 
D
r. Scholl's
, the #1 foot care brand recommended by Pharmacists has an entire range of accessories
For Her
to remedy those situations. 
At some point in our lives, we will all experience some form of foot pain (i.e. blisters, bunions, athlete's foot, arch/heel pain, etc.) P
ain around the balls of our feet and/or the bones in that area can develop by wearing shoes that are too tight for us or by wearing high heels. 
Bunions can develop over time from wearing shoes that are too narrow-toed and call
uses/corns can be caused by constant rubbing and/or pressure. Wearing properly fitting shoes with good arch support and cushioning is important but s
hoe inserts can also help.
  Here are a few options….
Dr. Scholl's Comfort Insoles

(Left below)

provide discreet all-day comfort when wearing pumps, flats or boots. Their 
Massaging Gels™ absorb shock on your heel

(see purple below)

. The insoles are slim (
¾ length), making them 
perfect for closed toed shoes or boots. These comfort insoles
 target cushioning the balls of your feet and are discreet so you don't even notice that they are t
here!
If you're looking for stylish or hidden comfort in any shoe including sandals or thongs, then 
Sole Expressions® Insoles 3 Pair Pack 

(Right below)

is a good option. They have a notch in the toe that fits comfortably inside sandals, slides, flip flops and other strappy shoes. This particular insole is made from a soft foam that absorbs shock in the heel and provides added cushioning for the ball of the foot. The slim design won't crowd your toes and stays firmly in place!
The most common complaint that many of us women have are those pesky aches and pains when wearing or walking in heels. Dr. Scholl's For Her High Heel Insoles can help prevent those aches and pains. Their ultra-soft gel arch shifts the pressure off of the ball-of-foot area and guarantees all-day comfort. The slim-fitting design is ideal for any heel over 2″ and is practically invisible…even in strappy heels!
Open Toe Insoles feature a 2-piece design and separate ball-of-foot and heel cushions that target support right where it is needed. These insoles are great for open-toe styles including dress shoes, sandals, sling backs and slides. I love that there are 2 separate pieces which allow you to customize where you need support most. 
My favourite product from the range are the 
Rub Relief Gel Spots
. These life savers 
offer targeted blister protection and help to 
relieve the discomfort experienced from shoe rubbing, pinching and friction! They can be placed anywhere inside the shoe to cushion the areas that are causes discomfort. T
he
"spots"
 come 6 to a pack and are available in different sizes including two pre-cut to fit straps and thongs.
Do you want to try all of these products out for yourself? Dr. Scholl's and Moms Makeup Stash have teamed up to give five lucky winners a prize pack including one of everything pictured above (all 5 products!) Entering the giveaway is easy – simply fill out the Rafflecopter form below and complete the extra tasks to earn extra entries. Good luck!