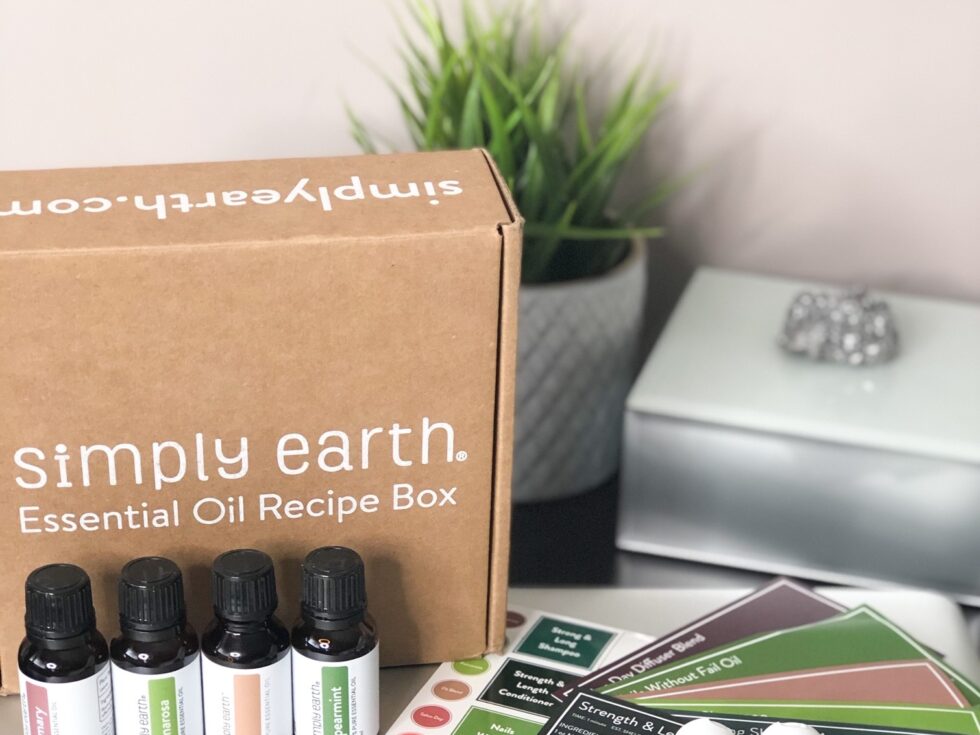 Whether you diffuse essential oils purely for the olfactory experience or use them specifically for your health or home, the search for high quality oils that don't break the bank can be a difficult one. Over the years we've tried everything from Saje, Thursdays Plantation, Young Living, Revive, Muji, Now Essential Oils, Nature's Truth, Aromaforce, Anjou and doterra. Today we're taking Simply Earth for a test drive and we have their July Essential Oil Recipe Box to share with you!
Before we dive into the Recipe Box, we wanted to mention that Simply Earth is not a multi-level marketing (MLM) company, which to some consumers is an immediate plus. Now don't get us wrong, some of those "MLMs" make amazing products that we absolutely love (i.e. doterra's Deep Blue Rub is a staple!) but the idea of their oils being marked up in price to justify paying its multi-level leadership tier is a little offsetting to many. Simply Earth is a family owned business based out of Wisconsin, USA. They claim to ethically source their ingredients from the best farms around the world and their products are all GC/MS tested. They offer individual oils and diffusers as well as a subscription box service which includes essential oils, oil blends, carrier oils, glass bottles, recipe cards and everything else you would need to make "recipes" using your new essential oils. 13% of Simply Earth profits also go to organizations that help end global human trafficking, and these organizations are all listed on their website!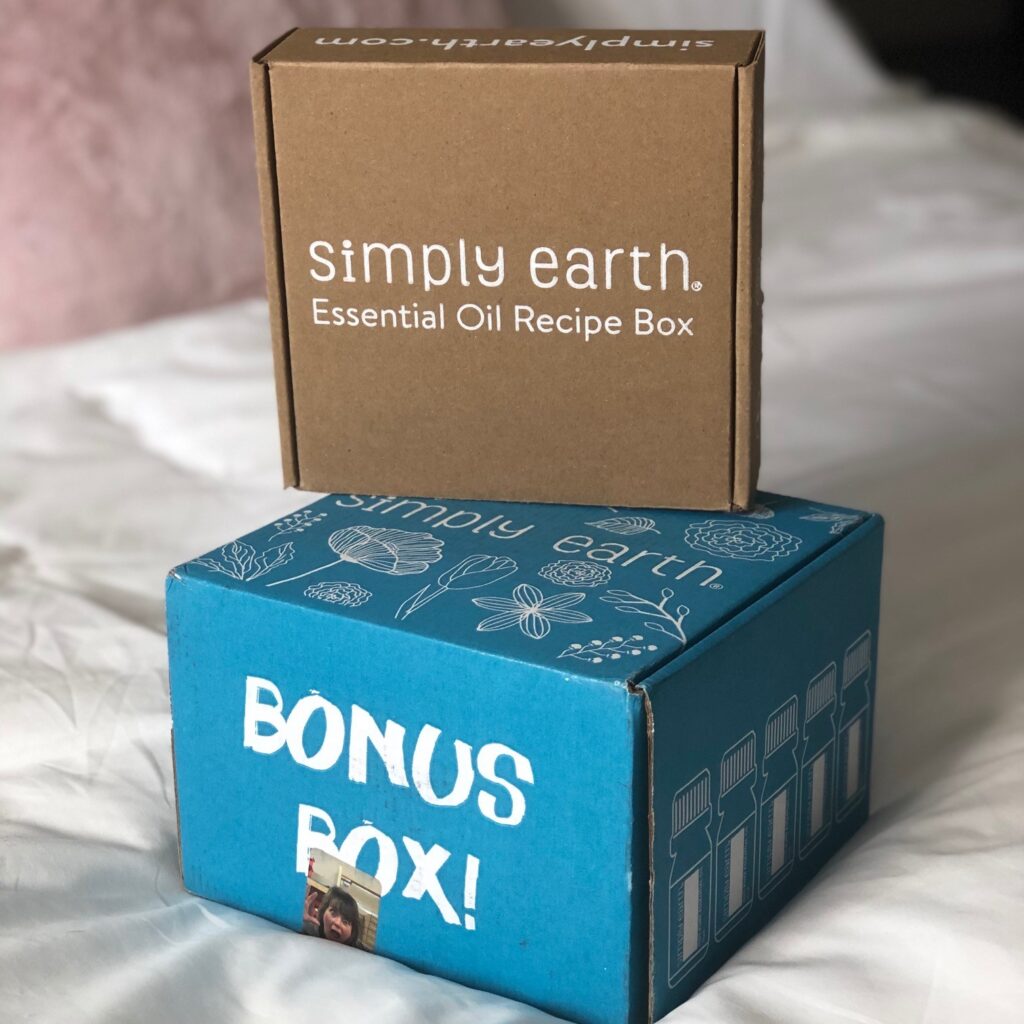 THE WEBSITE 
The company website is actually quite impressive and really should be applauded for its transparency. We love that each oil is rated by consumers, which is very helpful when considering a purchase. This is not typically seen on other essential oil retailer websites. Another big plus is that each oil has a product information breakdown, including what part of the plant is used, the extraction method, the country of origin, whether it is safe for pets, children, and pregnant/breastfeeding women, shelf life expectancy and so much more. To an informed consumer, this kind of information at your fingertips is fantastic and when compared to competitor websites, Simply Earth provides substantially more for their community. They also provide the ability for product users to input the batch number for third-party GC/MS* testing results of each oil you purchase. Anyone looking for quick DIYs and recipes also needs to look no further than the Simply Earth website and Simply Earth blog. The website also has a dilution guide, comparison charts and any product safety notices, readily available for consideration. 
*Gas Chromatography/Mass Spectrometry—a standard practice for analyzing and identifying all substances, including trace substances, within a test sample for a wide range of applications including essential oils. An important feature for determining quality and possibility of alteration, which could indicate oils with fillers or other impurities.
THE OILS
On paper, these oils are impressive. As mentioned above, they are third party tested and advertised as 100% pure with "all of the good stuff" and "none of the bad stuff" at under half the price of their competitors. The company keeps costs lower while maintaining quality by selling directly to customers with no "middlemen" or upcharges. Here are a few popular oil price comparisons, but do keep in mind that price and quality are two different factors to consider:
Saje
Young Living (retail)
doterra (retail)
Simply Earth
Lavender

10 ml
CAD: $24
15ml
USD: $29.55
CAD: $40.13
15ml
USD: $30.67
CAD: $41.27
15ml
USD: $13.99
CAD: $19.00
Spearmint

unavailable as a single oil
5ml
USD: $13.30
CAD: $18.09
15ml
USD: $37.33
CAD: $50.72
15ml
USD: $12.99
CAD: $17.60
Women's Blend
10ml roller
Transitions Hormonal Support
CAD: $20
15ml Dragon Time
USD: $66.12
CAD: $83.55
10ml roller
Clary Calm
USD: $36.00
CAD: $46.33
15ml Ladies Choice
USD: $15.99
CAD: $21.72
THE SUBSCRIPTION BOX
A unique product to Simply Earth is its subscription box service, and as mentioned previously, we've been testing out their July Box all month long. Each monthly box is curated by AHA-certified aromatherapists and includes 4 full size oils, 6 recipe cards (for creating additional products using the included oils) and accessories for making each recipe. A subscription is $39 USD/month but you can elect to skip a month, gift your box to a friend or cancel at any time without penalty. Another great feature is the ability to look ahead and swap out/exchange oils in upcoming monthly boxes if they are not to your taste or if you already have it in your collection.
July Essential Oil Recipe Box (value $60 USD for $39)
Includes four Essential Oils (all available for individual purchase; ranging in price from $12.99-15.99 USD), a shampoo base, conditioner base, empty bottle, labels & recipe cards. 
Rosemary 15ml
This popular herb relieves sore and tight muscles and uplifts/clears the mind. 
Fit 15ml
A blend of Grapefruit, Spearmint and Lavender essential oils, Fit helps you resist snacking between meals and curbs hunger. 
Palmarosa 15 ml
Similar to Rose oil, Palmarosa promotes healthy skin and also helps with sleeplessness. 
Spearmint 15ml
A common flavouring agent in gum and toothpaste, Spearmint helps with queasy stomachs, improves concentration and eases tension. 
Shampoo & Conditioner Base (1 oz each / cost unknown)
6 Recipe Cards & Labels: Nails Without Fail Oil, Strong & Long Shampoo, Strength & Length Conditioner, Salon Day Diffuser Blend, Fit Roll-On & DIY Dry Shampoo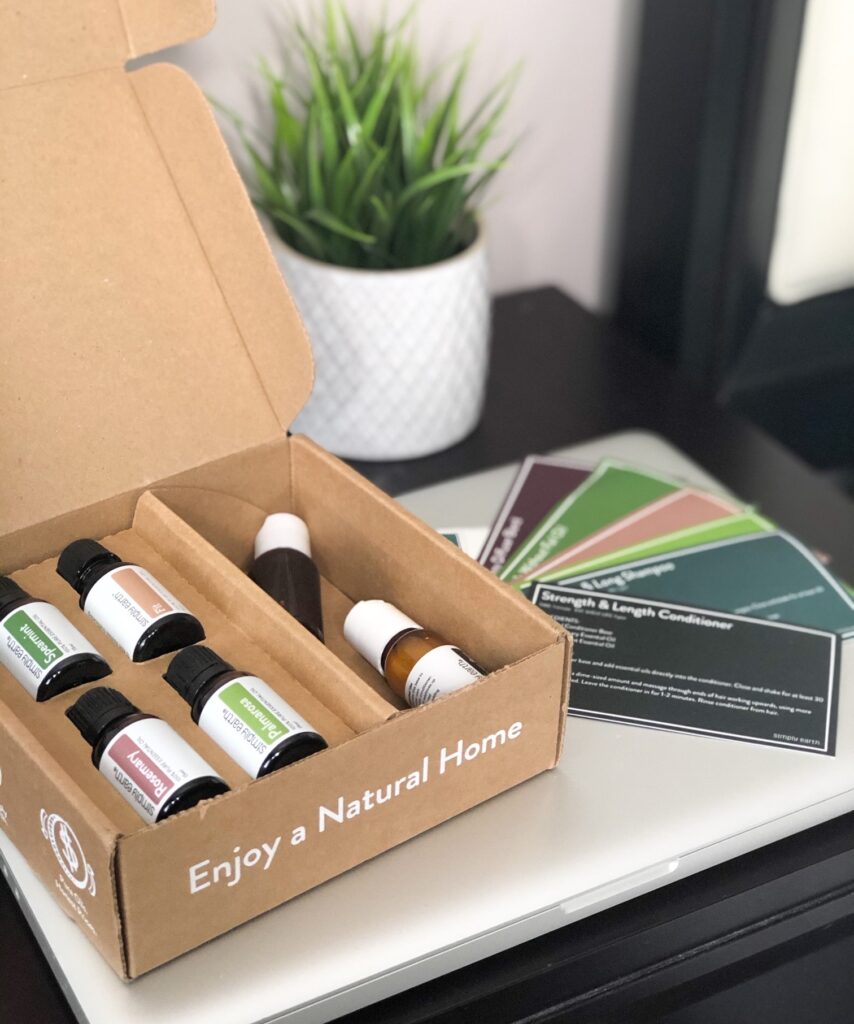 With our July Subscription box, we also received the "Big Bonus Box" valued at $45+ that all new subscribers receive for making recipes! This is sent free of charge when you order your first box and every 6 months to ensure you always have what you need for your recipes. New subscribers that use the code MOMSMAKEUPSTASHFREE at checkout will also receive a $40 gift card to use for future purchases so you essentially get your first box free!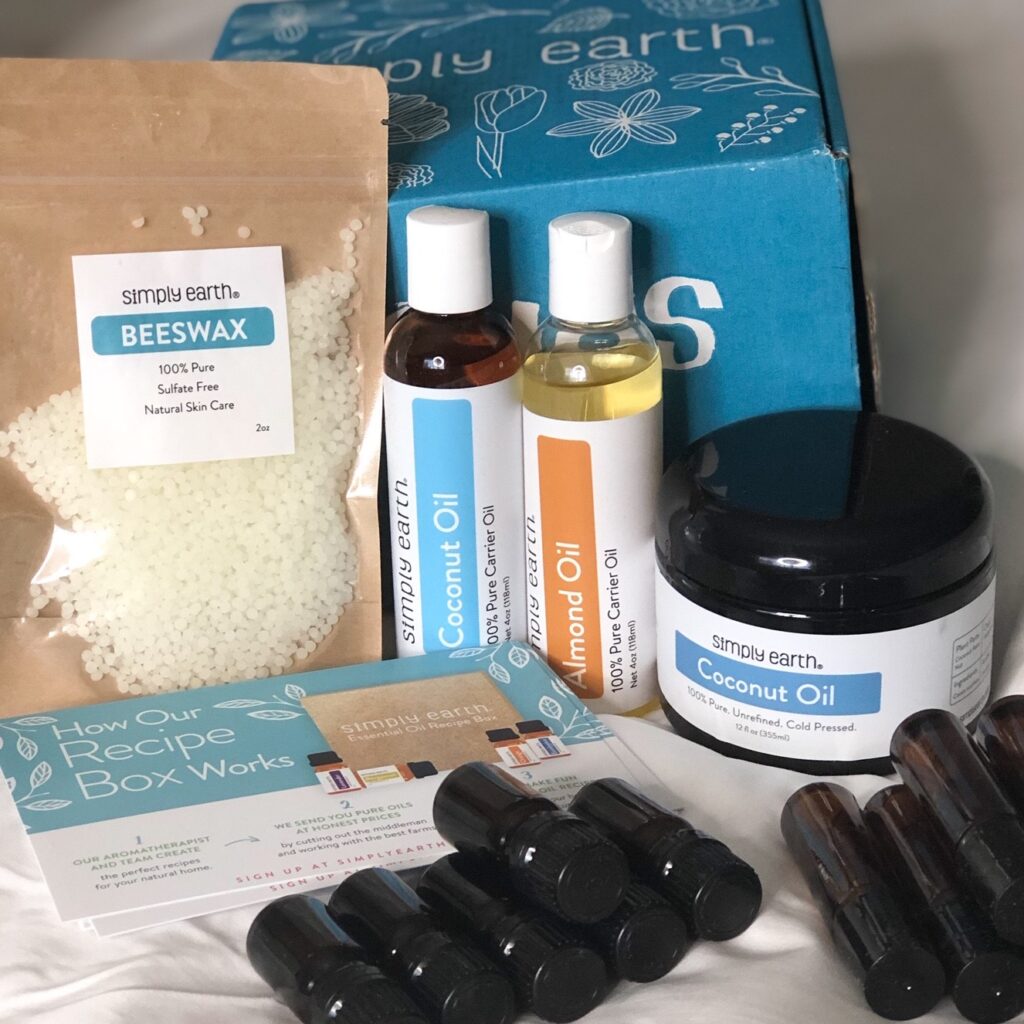 Big Bonus Box (value $45 USD for free with first month and every 6 months)
Fractionated Coconut Oil (4 oz/$8.99 US sold separately)
Beeswax (2 oz package/$5.99 USD sold separately)
Almond Oil (4 oz/$8.99 US sold separately)
Coconut Oil (4 oz/$8.99 US sold separately)
6 x 10 ml Roll-On Amber Glass Bottles ($0.99 US sold separately)
6 x 5 ml Amber Glass Bottles ($0.99 US sold separately)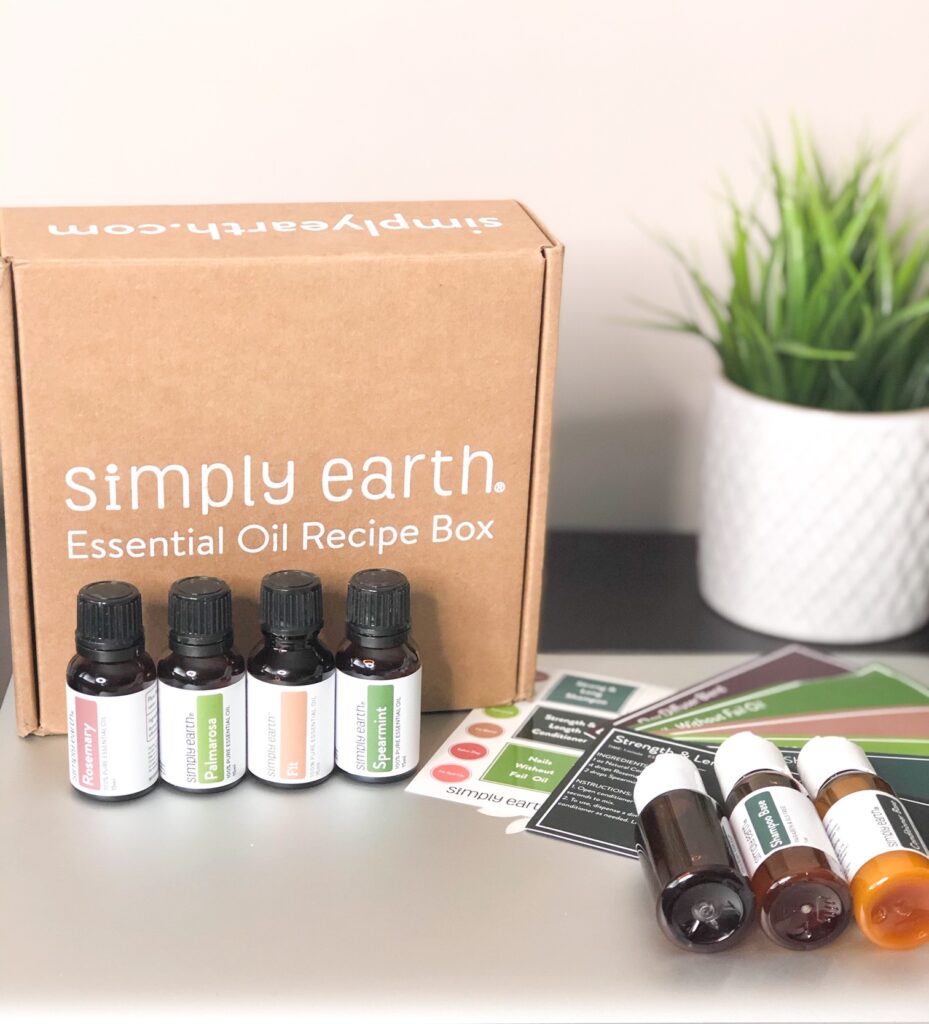 Opening up the box, smelling all the oils, and creating the recipes was exciting! Though one recipe was a miss for us (the DIY Dry Shampoo) all the rest we tried were absolute hits. This subscription box is a great way to experience the art of how essential oils can blend together and how they can be applied in your home. It also allows you to try oils you may not have otherwise purchased separately.
We must admit we were uncertain whether the oils would be able to deliver on quality given the price and company promises but they certainly delivered. Based on what we tried so far, these oils are on par with the higher-tiered essential oil companies in terms of potency, quality of fragrance, consistency and packaging. The essential oils and blend included in the July Box were wonderful and held up nicely when compared to their pricier counterparts. The Bonus Box was also a thoughtful added bonus to the service. It really helped to create a pantry of ingredients of everything you would need to experiment with your essential oils.
We can't wait to see what the August Box has in store for us and will be sure to share when it arrives! In the meantime, happy diffusing!