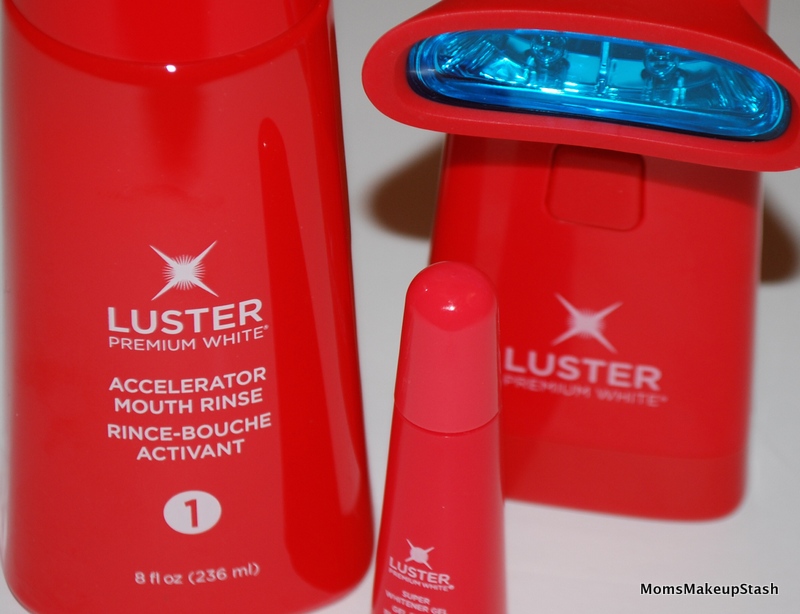 Who doesn't want a beautiful, white smile? Despite our hygienic efforts (i.e. flossing, brushing after every meal, regular dental visits at places like this dentist that does teeth cleaning beaufort sc), many of us still struggle with staining. That isn't to say that the dentist doesn't help. In fact, not going to the dentist would probably make things worse. However, it's so hard to keep on top of things. Age or drinking wine, pop, coffee or tea can contribute to the yellowing of our teeth. Even consuming foods like berries, and sauces (i.e. curry, soy, tomato) can make our pearly whites not so bright. Visit your local dentist huntington beach for more advice on which foods are preventing you from having a perfect set of white teeth. I've used Crest White Strips for the past 3 years off and on but when I recently discovered the Luster Pro Light Teeth Whitening System

($43.99 CAD)

, I decided to give it a try. Luster White is an at-home whitening system that uses light to erase years of stains in just 30 minutes! The product was developed by dentists and uses light-activated whitening technology as opposed to strips or messy trays to quickly (2x faster than trays or strips) whiten teeth up to 6 shades! It's always advisable to discuss new over the counter treatments with your Dentist Temple Terrace before going ahead using the product.
Recommended Schedules:

Rapid – Up to 60 minutes a day for 1 day (10-20 treatments)
Weekend – Up to 30 minutes a day for 2 days (5-10 treatments)
Weekday – Up to 12 minutes a day for 5 days (2-4 treatments)
Full Week – Up to 9 minutes a day for 7 days (1-3 treatments)
Accelerator Mouth Rinse (cleanses & pretreats teeth to maximize whitening results)
Super Whitener Gel (lifts surface & deep stains with active dental peroxide)
Whitening Light (activates the photo-catalyst in the gel)
Shade Guide to Measure Results
Treatment Directions:
1. Pour 10ml of the Accelerator Mouth Rinse into the cap provided & rinse for 10 seconds.
2. Paint the Super Whitener Gel onto each smile tooth (i.e. the front 6-8 teeth in the top/bottom of your mouth). Wait about 20 seconds to allow the gel to dry before moving onto the next step.
3. Position the Activating Whitening Light in front of your teeth and press the on button. Hold the light in place for 2 minutes. The buzzer will let you know when the 2 minutes is up.
4. Repeat the 3 steps above (= 1 treatment) as many times as you like. (see recommended schedule above)
TIP: Avoid coffee, tea, tobacco or any other liquids that could stain your teeth for 24 hours after treatments.
Results:
I chose the "weekend" schedule the first time that I used this system and was impressed with the results. It's fast, easy and most importantly it works! While my teeth are not super white, I did find that they whitened about 3 shades almost immediately. I didn't experience any sensitivity to the gel which to me was an added bonus! I also have plenty of gel and rinse left over for additional treatments and look forward to doing more in the comfort of my own home.
Do you want to try out this whitening system for yourself?
Enter below to win everything you see above and try this product out for yourself!
Open internationally. Good luck beauties 🙂