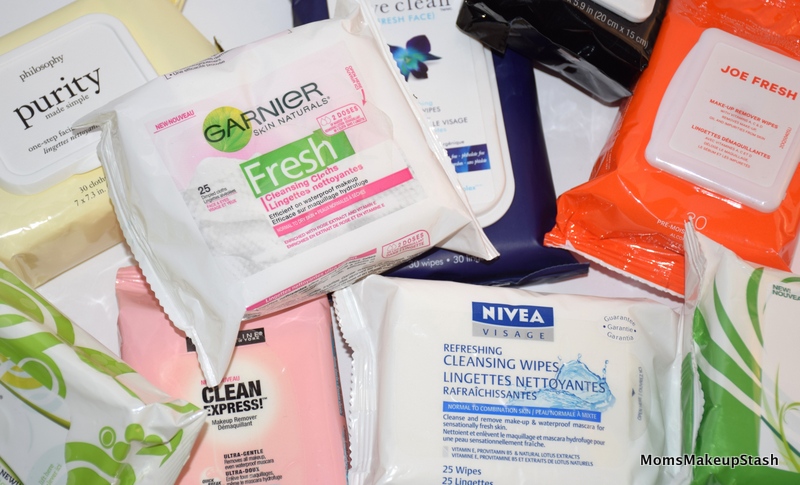 While some eye makeup remover liquids & gels do a wonderful job of removing stubborn waterproof eye makeup, facial wipes are great for removing everyday makeup, dirt & impurities. They also work well for spot cleaning brushes, fixing beauty blunders and even refreshing or exfoliating the skin since they don't require any rinsing with water! Makeup remover wipes, or facial wipes as I like to call them, are super convenient to tote around in your handbag and are an absolute packing essential for travel. But with loads of different brands and varieties on the market, how do you choose the one that is right for you? I've pulled together the most effective, no-fuss wipes that make removing your makeup a breeze. Included are wipes that I've re-purchased over and over again. Do I have a favourite? Yes! (more on that later) but I'm certainly not opposed to trying the latest innovation or product heating up the beauty airwaves and keep plenty of these stocked in my beauty closet depending on what's currently on sale. At the very end, I've included a product that I have yet to try but has certainly peaked my interest of late. Let me know if you've tried it and what your thoughts are in the comments below.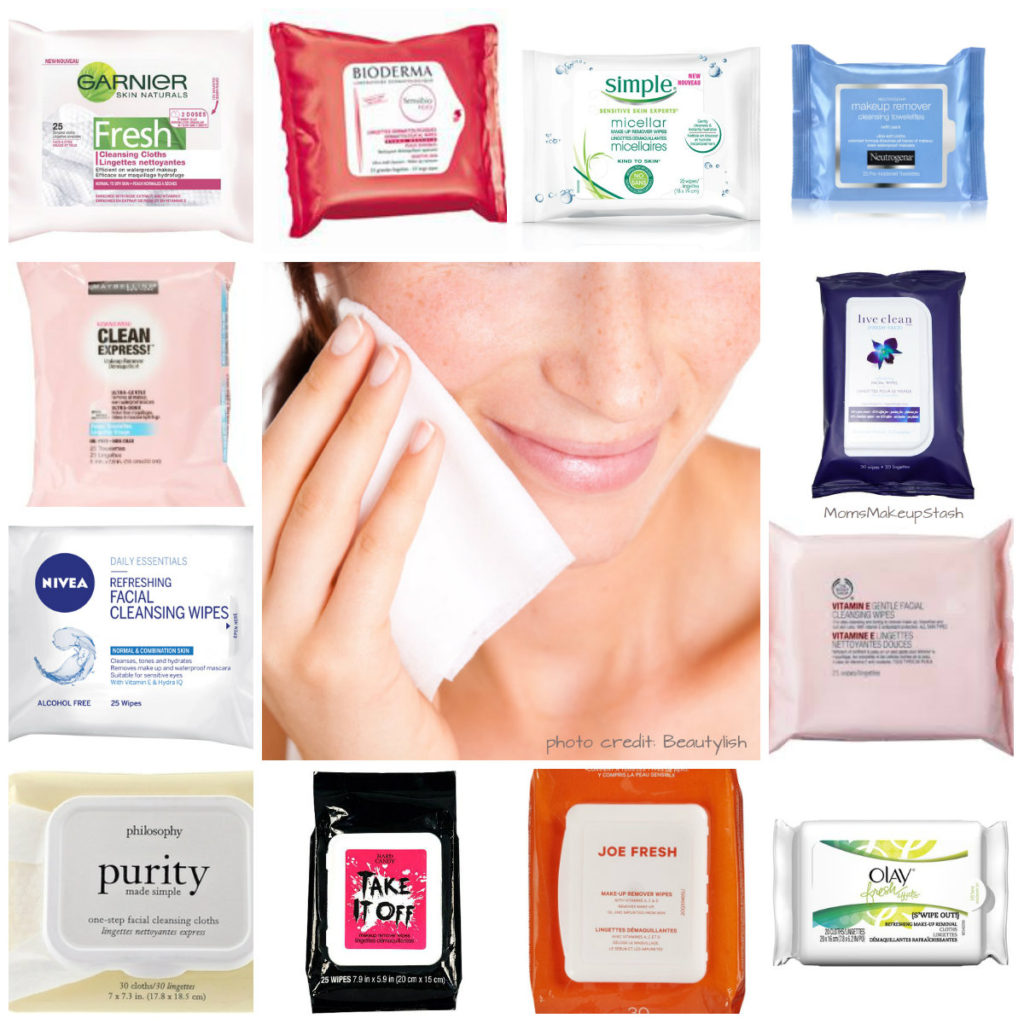 Let the countdown begin! 
#12 Hard Candy Take it Off Makeup Remover Wipes (25 count)
The good news is that these wipes made the list. The bad news is that I almost didn't include them given their odd fragrance and their lack of effectiveness at breaking down heavy makeup. They are however a cheap & cheerful option for spot cleaning brushes and removing product swatches. 
#11 Maybelline Clean Express! (25 count)
These highly saturated wipes are oil-free and ultra-gentle on even the most sensitive skin. The formula includes Moringa Seed extract which also has detoxifying properties. 
#10 Olay Fresh Effects S'wipe Out! Refreshing Makeup Removal Cloths (20 count)
These pre-moistened cloths lift away dirt and make-up like no ones' business. Formulated with Olay moisture and vitamin E, they leave the skin feeling clean, soft and smooth in one easy swipe. There's also oil free & non-comedogenic!
#9 Garnier Fresh Cleansing Cloths (25 count)
Enriched with rose extract and Vitamin E, these dimpled cloths protect your skin against dryness and are super comfortable too. They smell great, contain "2 doses of makeup removing lotion" and are quite durable.
#8 Bioderma Sensibo H20 Dermatological Wipes (25 count)
My favourite micellar water available in wipe form!!! That's right folks. These alcohol/soap-free wipes are ultra-mild and remove makeup like a charm. For even more cleansing power, I've been combining these with my trusted Sensibo Micellar Solution – which most of you know is my holy grail product! 
#7 The Body Shop Vitamin E Gentle Cleansing Wipes (25 count)
With loads of Vitamin E saturating every cloth, these wipes are all you need for removing dirt and makeup! Did you know that they also tone and moisturize your skin as well?
#6 Nivea Refreshing Cleansing Wipes (25 count)
These cleansing wipes are packed with Vitamin E, ProVitamin B5 and Natural Lotus Extracts making them the most refreshing of the bunch. 
#5 Live Clean Fresh Face Refreshing Facial Wipes (30 count)
These wipes are hypoallergenic, eco-friendly, pH balanced, vegan and oil/alcohol free. They include certified organic botanicals, cucumber & orchid extract and Aloe Vera making them effective, refreshing and soothing on the skin.
#4 Simple Micellar Makeup Remover Wipes (25 count)
Gentle and soothing, these wipes do not strip the skin because they are formulated sans oil or alcohol. I'm fairly new to these ones, but they are definite contenders!  
#3 Joe Fresh Makeup Remover Wipes (30 count)
These quilted, durable wipes are packed with Vitamins A, C and D and do a wonderful job of removing oil, makeup and impurities form the skin. They're also pleasantly scented and perfect for all skin types.
#2 Philosophy Purity Made Simple One-Step Facial Cleansing Cloths (30 count)
Philosophy has become a stand out brand for me this year and these wipes are no exception. A bit on the pricier side but they're formulated with the brands' best selling cleansing formula to break down makeup and cleanse the skin.  
#1 Neutrogena Makeup Remover Cleansing Towelettes (25 count)
These ultra-soft cloths take my number one spot because despite claims by other brands to do the same, these wipes actually work to break down waterproof makeup! For a product that's so gentle, that's super impressive!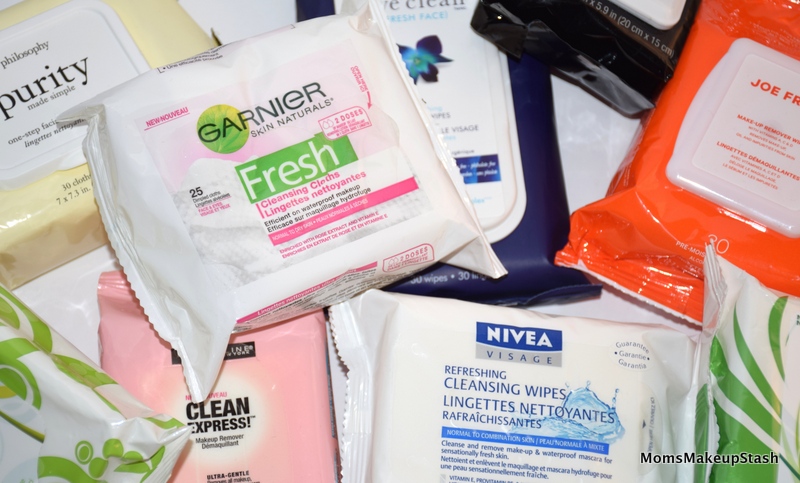 When I first heard about these makeup remover wipes by Klorane, I made a mental note to pick them up the next time I was at a drugstore that carried them. Infused with refreshing and deconstructing cornflower extract and with a pH similar to tears, they claim to remove all traces of tough makeup without any water. I'm hoping that these work as well as Klorane's dry shampoo? (aka the best dry shampoo ever!!)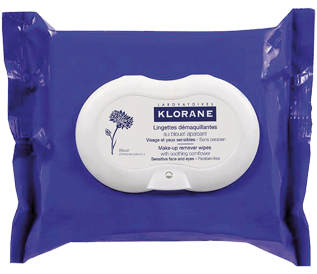 Which of these makeup remover wipes have you tried? Any favourites?