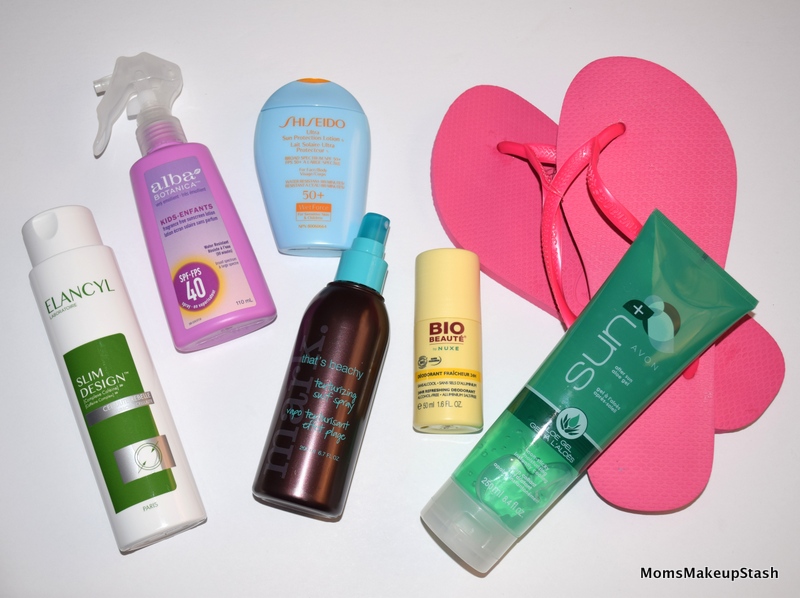 The weekend is finally here and it's going to be a long one! As I write this, I'm not exactly sure whether we're heading up north to the cottage, spending the weekend in town riding roller coasters or just joining friends for a BBQ tomorrow and spring cleaning the rest of the weekend but either way I need to ensure that my family is prepared for any kind of activity outdoors. In addition to packing a small cooler with some snacks and bevies, I also plan on tossing some outdoor essentials into a small backpack because having things on hand like sunscreen, deodorant and comfy shoes to walk in are necessities if you plan on being out all day!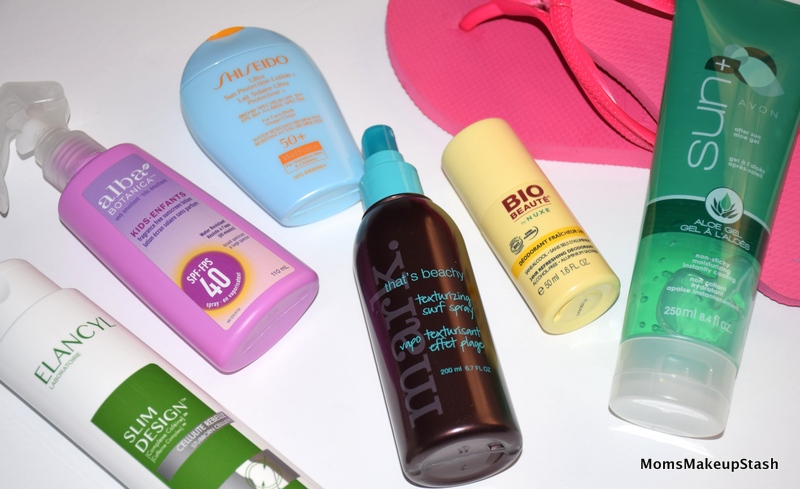 Here's a quick look at some of my weekend essentials: 
mark That's Beachy Texturizing Surf Spray

($16 CAD/200ml)

– This spray has been an all time favourite of mine since way back when my kids were small. It leaves wavy hair looking full of bounce in the heat (as opposed to flat). Just spritz it in and scrunch away for immediate texture and volume. 
Elancyl Slim Design

($60 CAD/200ml)

– This French body serum contains a caffeine complex that was developed to reduce the appearance of stubborn cellulite but I like using it as an all over body lotion. I don't like feeling dry in the sun so I always carry around lotion with me. And since this one helps smooth out skin and reduces the appearance of dimples, I liberally apply it on my legs, thighs and arms every chance I get! 

Bio Beauté by Nuxe 24h Refreshing Deodorant 

($13 CAD/50ml)

 – I wasn't a big fan of roll-on deodorant until I discovered this bad boy. An organic, "lemon" scented deodorant that contains 10 essential oils, 5 floral waters, starch powder and aloe vera. It also contains no aluminium salts, no alcohol and leaves behind no white residue. Yes, please!
Alba Botanica Kids Sunscreen Lotion SPF 40

($9.99 CAD/110ml)

 – As a mom, I don't leave the house in the Summer without packing sunscreen. This kid-friendly lotion by Alba Botanica provides broad spectrum UVA/UVB protection, is water-resistant & non-greasy AND absorbs quickly for kids that can't stand still! 
Shiseido Ultimate Sun Protection Wet Force 50+

($49 CAD/100ml)

 – A recent favourite of mine. This lightweight, low-irritant sunscreen was developed for sensitive skin and children. It features high broad spectrum mineral-based protection, WetForce technology, 80 minute water-resistant wear and is great for both face and body.
Avon Sun+ After Sun Aloe Gel

($7.99 CAD/250ml)

 – This soothing, moisturizing gel is infused with aloe vera and helps relieve the drying effects of sun, wind or water. It is basically "overexposed" skin's best friend and feels great after spending a long day outside. It also cools the skin in case you've stayed out too long and are feeling hot.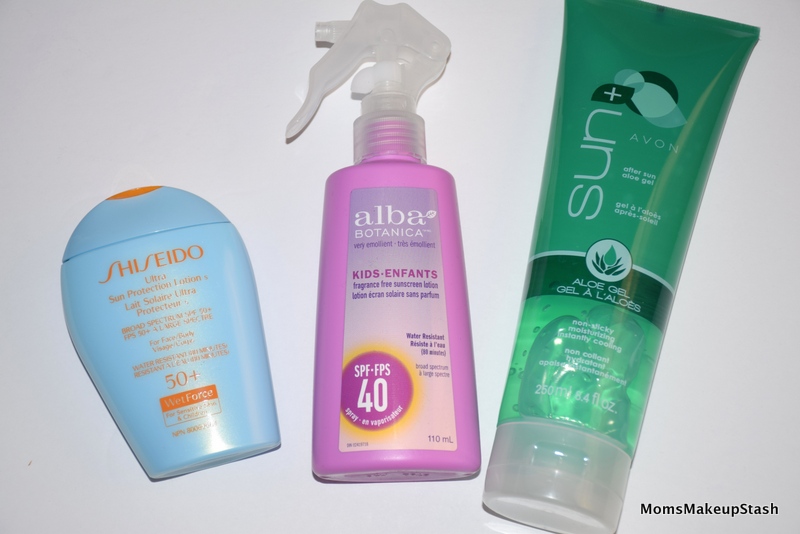 I'd love to hear what you'd bring along for a day outside? Leave me your suggestions in the comment section below.