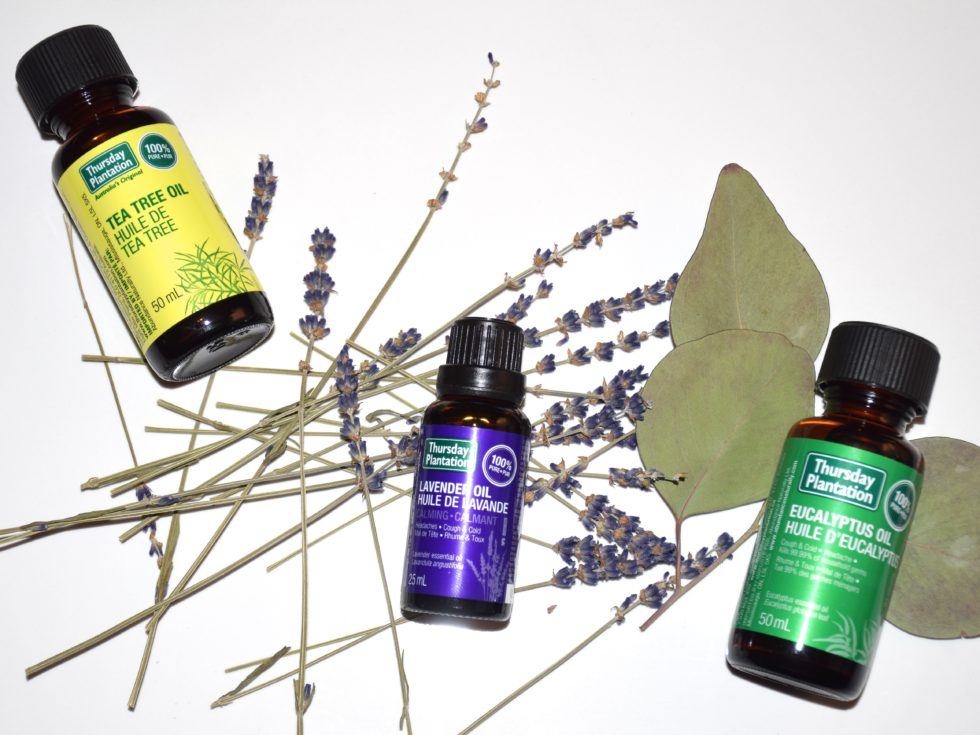 Did you know that there are hundreds of uses for essential oils? I recently discovered a number of new ways to use them like freshening up my car and removing stains! From beauty, home and therapeutic uses to first aid and cleaning, essential oils are natures' remedies. They are 100% natural and possess a wide range of restorative properties to maintain health and wellbeing. Thursday Plantation is an Australian company that makes and sells essential oils, facial oils and other aromatherapy items. Essential oils can be pricey but this company has a fair and affordable price point for such pure, high quality products. You can find Thursday Plantation in Canada at Whole Foods, some Walmart and Rexall locations as well as online at Well.ca. Nature's Emporium and other Health Food stores will carry the brand as well. 
If you visit the company website or their social media platforms, you'll notice that they are currently running a "100 Uses for TP" campaign that illustrates 100s of things that you can do with essential oils. I have 3 essential oils from Thursday Plantation to share with you today: Tea Tree, Lavender & Eucalyptus. To give you a general idea of what you can do with each one I've included my top 10 uses for each below.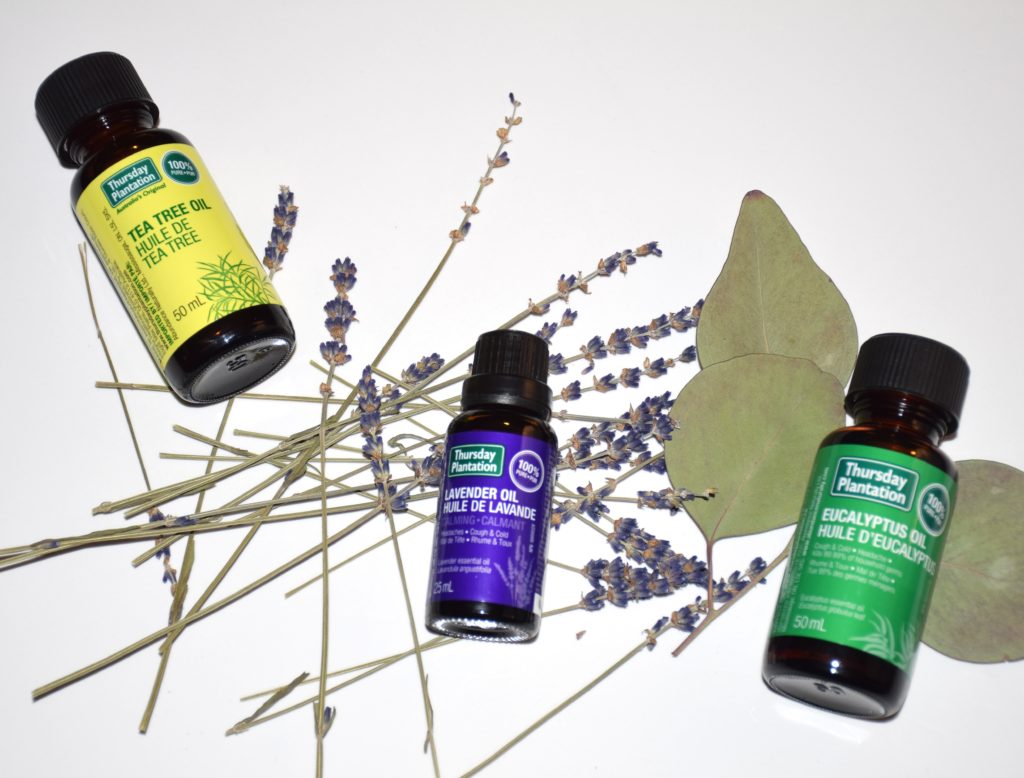 Tea Tree Oil ($19.99 CAD/50ml) is Thursday Plantation's hero product. It is a 100% pure antiseptic oil that has countless uses but is most known for its ability to treat facial acne or its use in first aid situations. Here are some other common uses for Tea Tree Oil.
Effective against a wide range of bacteria, fungi and viruses

Non-stinging bug bite remedy

Safe to use on small cuts and scrapes and in other first aid emergencies

Works great on pimples & acne (reduces redness without drying out the skin)

Can be used as a household cleaner

When combined with water or baking soda, can be used to deodorize your shoes and/or surfaces

Treats infections like athletes foot 

Rub into ingrown nails to reduce pain & inflammation

Use as a deodorant, diluted mint-free mouthwash or antibacterial sanitizer (ok I cheated…this is 3 uses!)

Substitute tea tree oil for your astringent to effectively clean your pores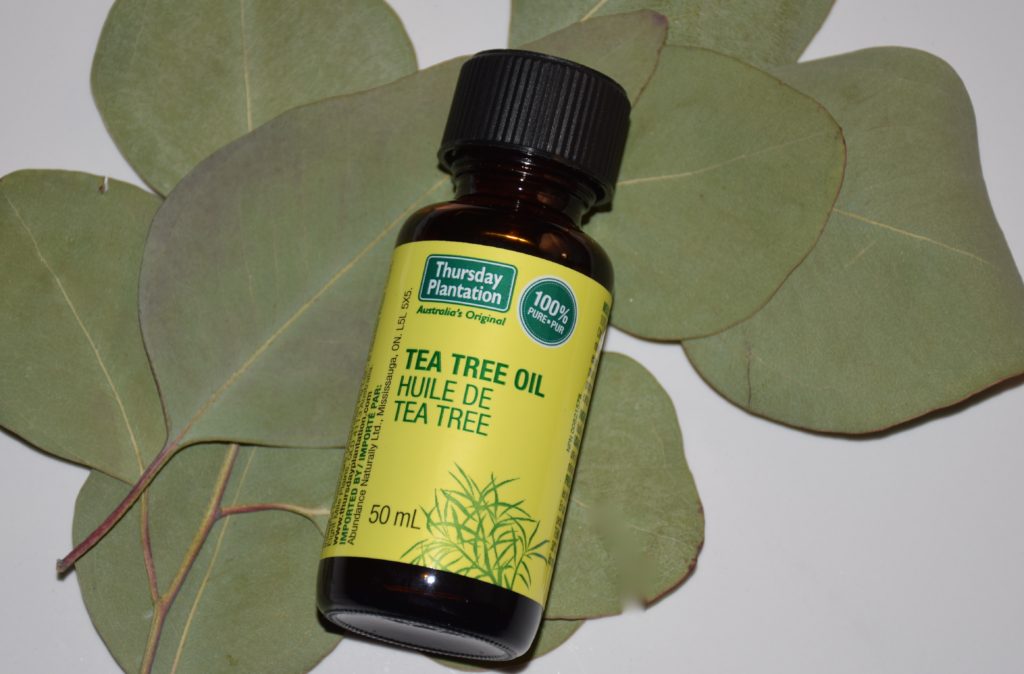 Eucalyptus Oil ($9.99 CAD/50ml) is most commonly used as a cough and cold remedy but as you can see below, there are many other uses for this 100% pure essential oil. It is considered to be "a fragrance of renewal and recommended for those seeking new horizons".

Helps relieve cold symptoms (TIP: Add 5ml to hot water and inhale)

Eliminates bad car odors 

Use to remove stains on your clothes

Temporarily relieves mild arthritic and muscular aches & pains

Kill 99.9% of household germs (clean countertops, floors, sinks etc.)

Use in a diffuser or humidifier to decongest 

Remove residue caused by sticky labels

Effectively treat asthma or allergies by inhaling a eucalyptus-infused cotton ball

Removes stains, grease and tar from surfaces

Cleans and freshens laundry

Lavender Oil ($19.99 CAD/25ml) is a pharmaceutical grade oil that can help calm, soothe and relax the body and mind. It has many therapeutic and relaxing properties and its my favourite of the 3 oils mentioned.
Combat stress and anxiety (TIP: add a few drops to your temples)

Soften skin (just add to your bath water!)

Soothe tick, wasp, mosquito or other insect bites 

Treat eczema or psoriasis 

Improve sleep by adding a few drops to your pillow

Relieve headaches

Use as a room spray (TIP: add to water and baking soda for an all natural air freshener)

Reduce dandruff and flaky scalp

Enhance night cream 

Clean and disinfect makeup brushes