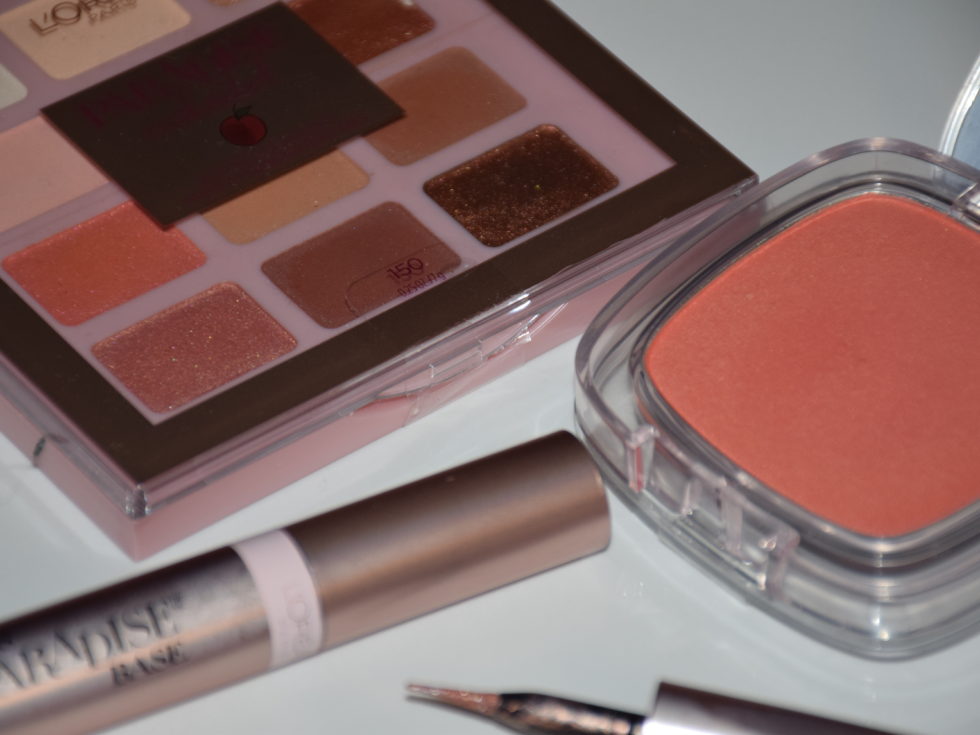 L'Oreal takes us to paradise this Summer with their new Enchanted Paradise Collection! If you've been lusting over Too Faced's Peaches and Cream, Sweet Peach or Chocolate scented collections, you may want to check out L'Oreal's new tropical fruit-scented eye shadows and blushes the next time you're at the drugstore!
I don't even like peaches but the sweet scent of these products has me completely captivated! Not to mention the colour payoff, the texture and the gorgeous shades…. L'Oreal has hit a home run with this collection! The Paradise Enchanted Scented Eye Shadow Palette ($14.99 USD/$22.99 CAD) contains 12 neutral Colour Riche eye shadows in various finishes as well as instructions to create 4 different eye looks. The palette is not at all bulky and small enough for travel but does not come with a mirror. The shadows blend beautifully, have excellent pigmentation and don't cake or crease. I highly recommend this palette, especially if you are lucky enough to find it on sale!
L'Oreal also launched four super pretty scented blushes in #190 Bashful, #191 Fantastical, #192 Just Curious & #193 Charming. Bashful & Fantastical ($12.99 USD/$18.99 CAD) are swatched below. I'm not entirely sure, but I think those are the only 2 shades available in Canada? The new powder blushes smell incredible and contain coconut oil, peach kernel oil and mango and cocoa seed butters. The blushes blend out easily on the skin and have a really nice, buildable sheen to them. The compact itself opens up to reveal product on the top and a hidden mirror on the bottom. So, so pretty!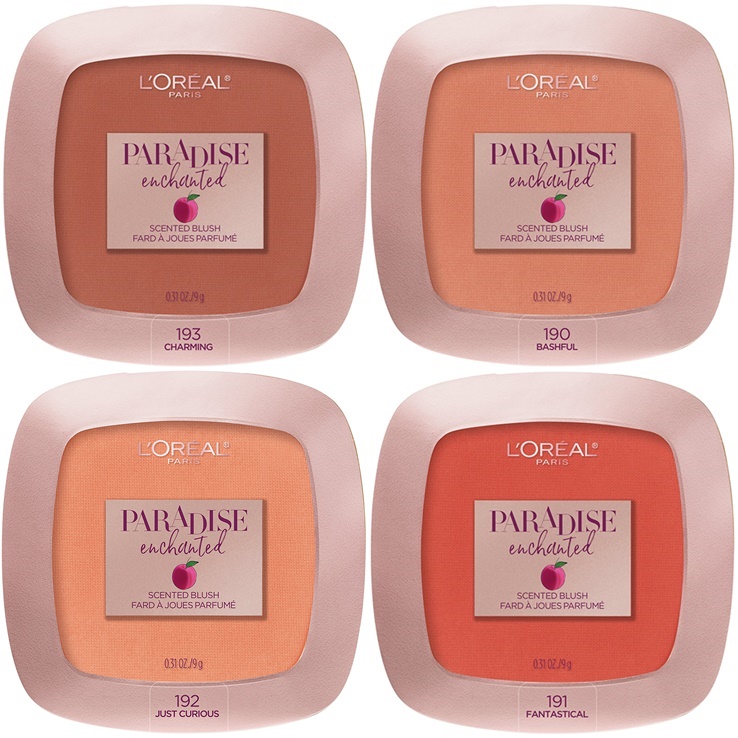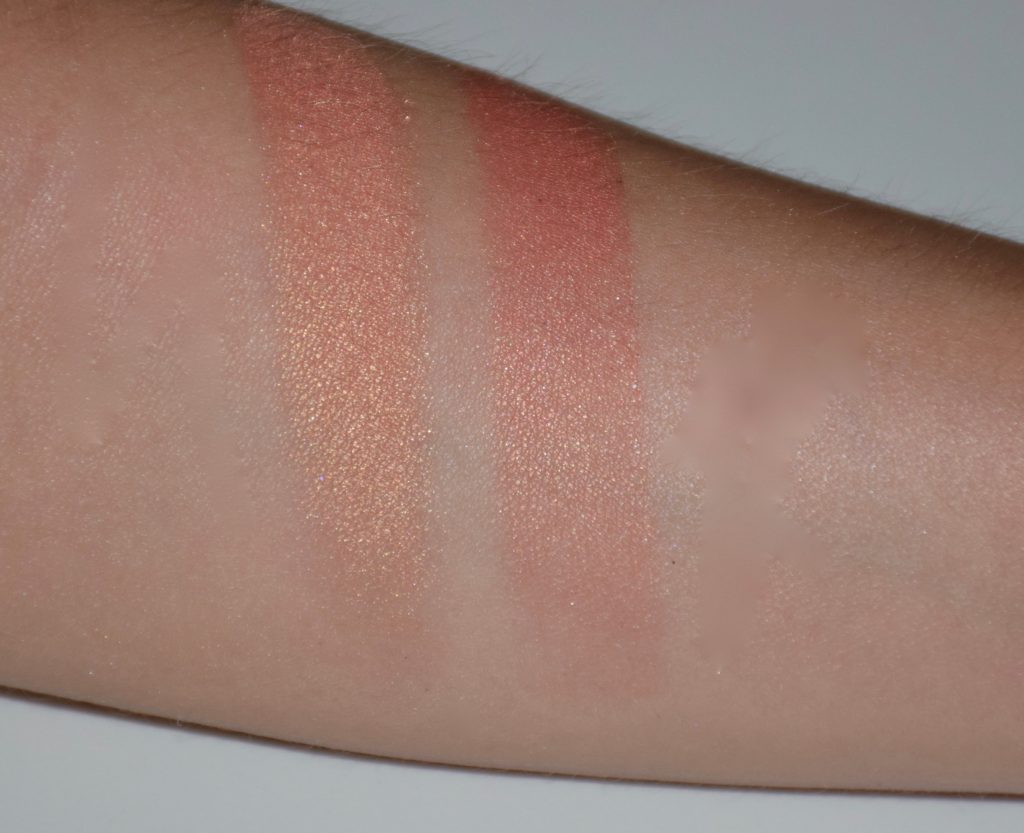 If you follow me on social media, you may recall me dubbing L'Oreal's Voluminous Lash Paradise a great dupe for Too Faced's Better Than Sex mascara! From the hourglass shaped brush to the rose gold packaging, the 2 mascaras certainly resemble one another. Lash Paradise is a really popular mascara, so I'm not surprised that L'Oreal decided to come out with the new Voluminous Lash Paradise Primer ($9.99 USD/$13.99 CAD), a pink-tinged formula designed to enhance any mascaras wear.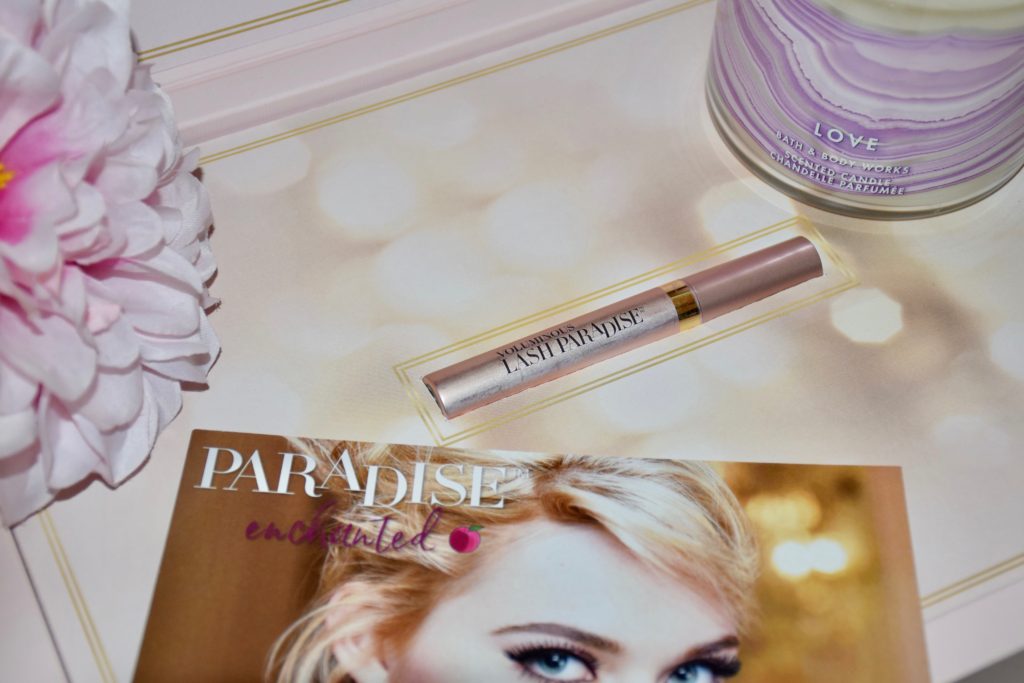 And finally, L'Oreal introduces two new Voluminous Lash Paradise Liquid Eyeliners ($9.99 USD/$12.99 CAD) in "Black" and "Rose Gold". The liquid liners glide on easily and have a precise, flexible tip for ultra-plush application. The black eye liner formula is waterproof and the metallic rose gold one is water resistant. Both shades produce a high-shine, bold line. Overall, I'm really impressed with this collection. The primer weighed down my lashes a bit and felt a tad sticky but the eyeliners, blushes and eye shadow palette are absolutely wonderful. And you guys already know how much I love the Lash Paradise mascara!