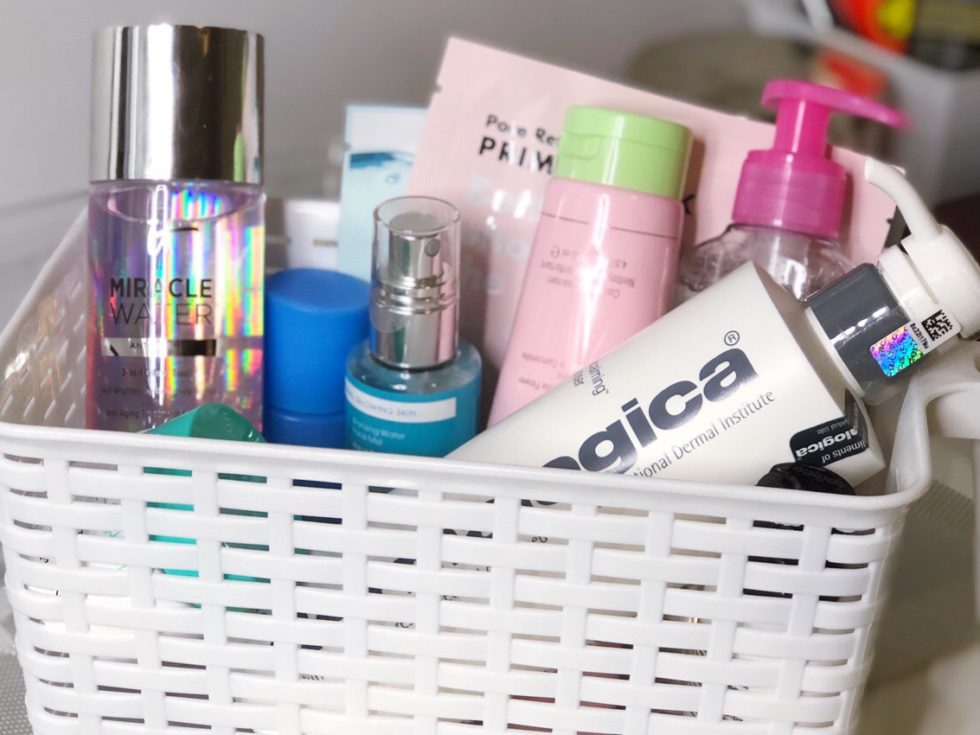 Ugh. The weather in Toronto is not playing nice! The past several weeks we've had to deal with freezing rain, ice pellets, cold winds and extreme temperatures. As this undesirable weather continues to hammer through most of Canada, I thought I'd launch a "winter warriors" skincare series and highlight products that can stand up to the redness, flaking and dryness that our skin seems to suffer more from during Winter. Today we're talking about the best cleansers, toners and hydrating mists that nourish and soothe cold-weather skin!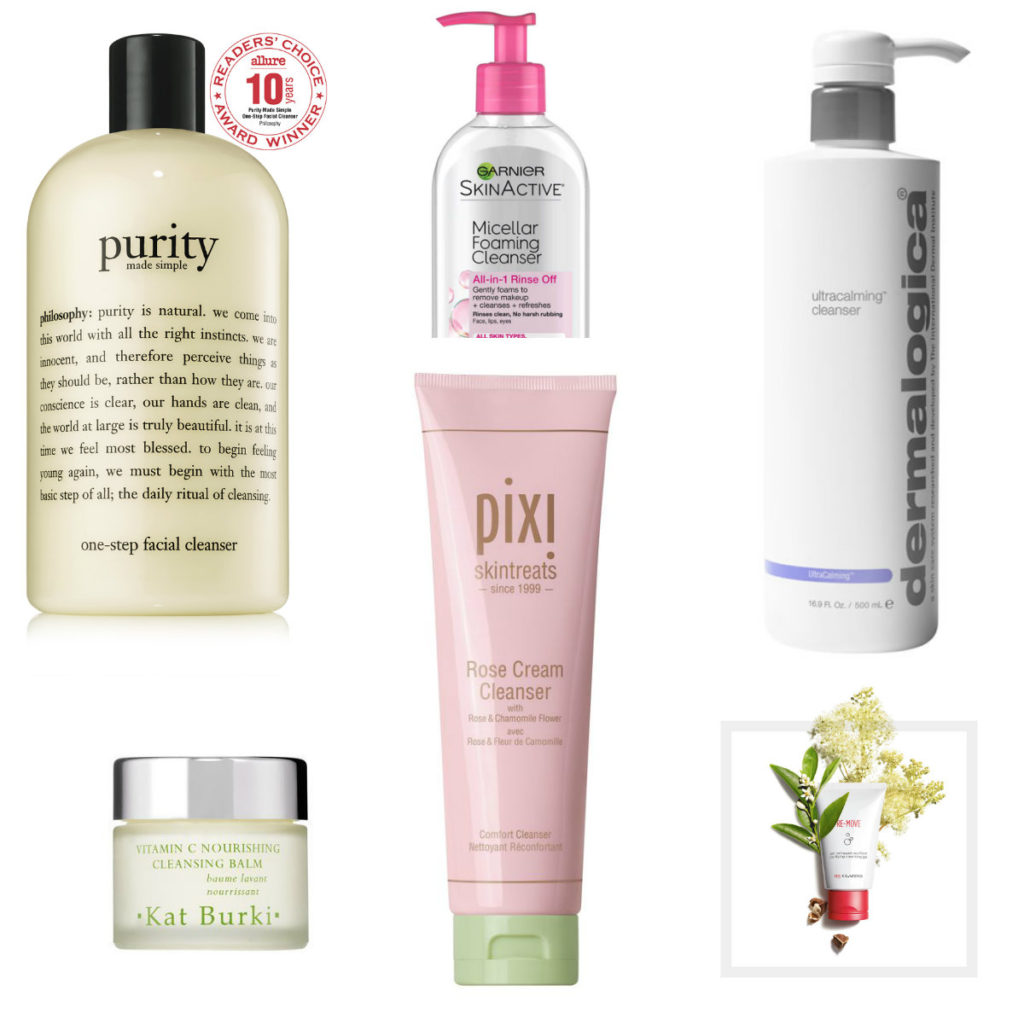 Philosophy's Purity Made Simple ($32/240ml) is an award-winning cleanser that melts away dirt, oil and makeup. Aside from doing a really great job of of deep cleaning the skin however, this cleanser also tones and conditions the skin, making it feel comfortably balanced. It's great for all skin types and gentle enough to use around the sensitive eye area too.
I've talked about their Micellar Cleansing Water before, but a product I've recently been loving is Garnier's Micellar Cleansing Gel Wash ($9/200ml). It's similar to the latter but comes in a gel formula that you rinse off! This refreshing cleanser combines natural grape extract and purifying micelles to remove oil, impurities and makeup like a magnet, while minimizing shine. Although I prefer using Garnier's Micellar Cleansing Water to remove makeup around the eyes, this cleansing gel works great as a secondary cleanser when my skin needs more of a deeper clean.
A great cleansing option for sensitized or reactive skin during the Winter months is the Dermalogica Ultra Calming Cleanser ($55/250ml). This super gentle, pH-balanced gel/cream formula really packs a cleansing punch! It leaves your skin feeling squeaky clean while working under the surface to interrupt inflammatory triggers and minimize any discomfort, burning or itching caused by skin sensitivities. No matter how many new cleansers I try, this product is always in my rotation!
Next up is a purifying cleansing gel that I haven't been using long but already love. Re-Move Purifying Cleansing Gel ($22/125ml) by Clarins removes any traces of makeup, dirt and excess oil while reducing the drying effects of hard water and cold temperatures. It contains Moringa extract, bitter orange flower water and meadowsweet extract to cleanse, purify and soften the skin.
If there is one thing that dry, dehydrated skin needs in the Winter, it's comfort. Pixi's Rose Cream Cleanser ($24/135ml) with Rose & Chamomile is a comforting cleanser that soothes and calms while its mineral rich formula cleanses and strengthens the skin. The creamy formula rinses off easily without any residue and leaves skin feeling clean & well-nourished.
And finally, my last cleansing pick for Winter is the Vitamin C Nourishing Cleansing Balm ($82/jar) by Kat Burki. Although this cleanser is on the pricier side, I just can't say enough good things about it! It renews and brightens dull skin, removes stubborn makeup, prevents dryness and helps retain moisture using a powerful combination of cold pressed oils and vitamins. If you're looking for something to redeem those PC Optimum Points on at Shoppers Drug Mart, then this is it!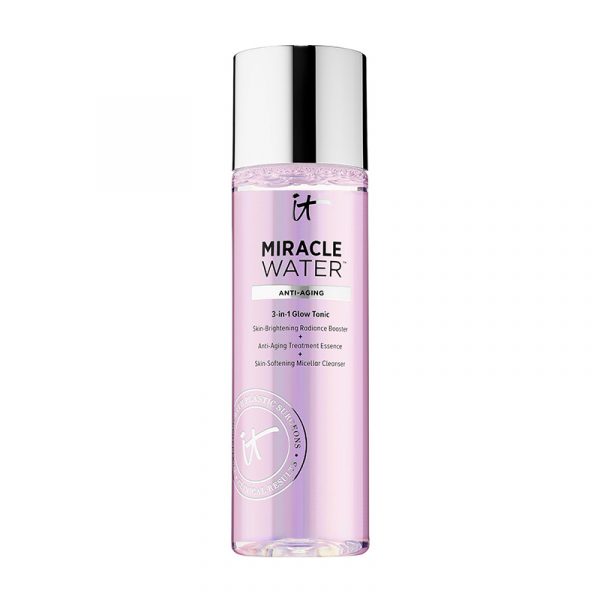 A unique product that I wanted to ensure was included in this skincare series is not a stand alone cleanser or toner per se but rather a 3-in-1 Glow Tonic. The anti-aging Miracle Water ($49/250ml) by IT Cosmetics is a lightweight no-rinse solution that cleanses, purifies and brightens the skin while minimizing the look of fine lines and wrinkles. It contains a ton of amazing skin-loving ingredients like collagen, aloe, green tea water, vitamin C and anti-aging peptides (just to name a few) and also improves the efficacy of moisturizers and serums. I love the youthful, lit-from-within glow I have when I use this!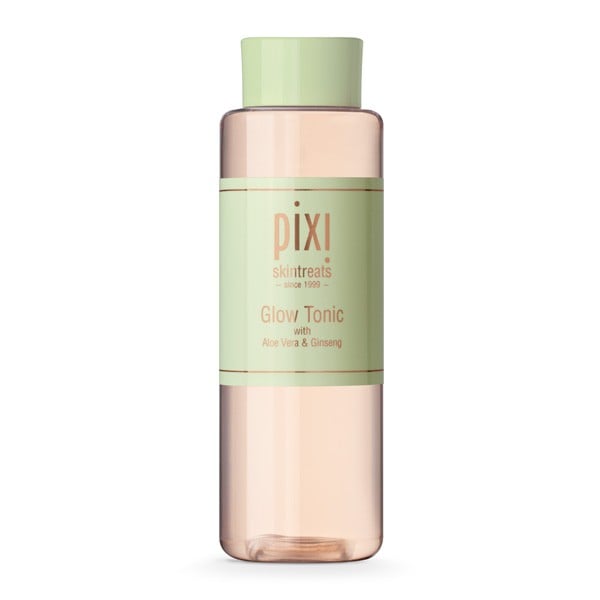 A crucial step in any skincare routine comes right after you wash your face and involves using a toner. Many people skip this step but it is so important, especially if you experience any redness, dullness or irritation. Using a toner helps to balance pH levels, provides a secondary cleanse, controls oil and moisturizes the skin. Look for a toner that best matches your skin type and keep in mind that your skin changes seasonally so what you need in Winter will be different than what you will benefit from in the Fall. Check ingredient labels and try to avoid toners that contain alcohol.
A standout product that is technically a toner but does so much more for my skin is Pixi's Glow Tonic ($38/250ml). This product is seriously holy grail! The highly concentrated formula deep cleans pores, removes excess oils and impurities left behind by your cleanser and gently exfoliates the skin with just a few swipes of a cotton pad. It contains 5% glycolic-acid, aloe vera and red ginseng to protect, soothe and energize the skin. It also leaves your complexion looking radiant.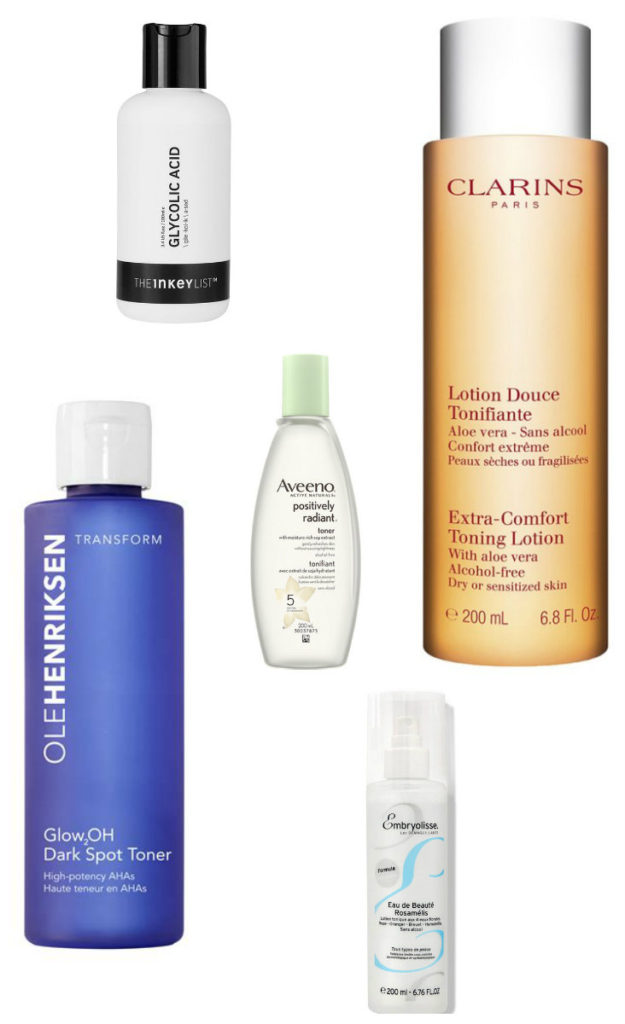 I've made no secret of the fact that I love the Aveeno Positively Radiant face and body range. Aveeno's Positively Radiant Toner ($13/200ml) is no exception and contains Active Naturals Soy extract to help rebalance your skin without making it feel dry or creating any tightness. It is perfect for dry Summer days or cold Winter months!
Another great toner is the Extra-Comfort Toning Lotion for Dry or Sensitized Skin ($36/200ml) by Clarins. This toner is so soothing because of its comforting ingredients (sweet almond & Linden) and leaves skin feeling moisturized and refreshed. It also contains marshmallow and mango which makes it smell delicious too.
For those of you who spend way too much time baking in the sun, Ole Henrickson's Glow2OH Dark Spot Toner ($34/190ml) will help undo some of the damage caused by overexposure by working to reduce fine lines, wrinkles and uneven texture. It uses a high concentration of AHAs (glycolic and lactic acids) and witch hazel water to also reduce the look of dark spots. I really like its lemony, sweet scent!
Another newbie to my beauty arsenal is the Embryolisse Eau de Beauté Rosamélis ($22/200ml) – a refreshing toning spray comprised of 4 flower waters (Rose, Orange Blossom, Cornflower & Hamamelis) that leaves skin feeling completely fresh and purified. I've been reaching for this toner more on days when my skin lacks lustre, feels sluggish and looks more fatigued.
And finally, my last toner pick is from the new brand The Inkey List. Derived from sugar cane, their Glycolic Acid ($12.99 /100ml) AHA liquid toner brightens skin by removing dead/dehydrated cells from the surface and minimizing the appearance of pores. It provides the most gentle exfoliation, stimulates collagen production and works great on any skin type.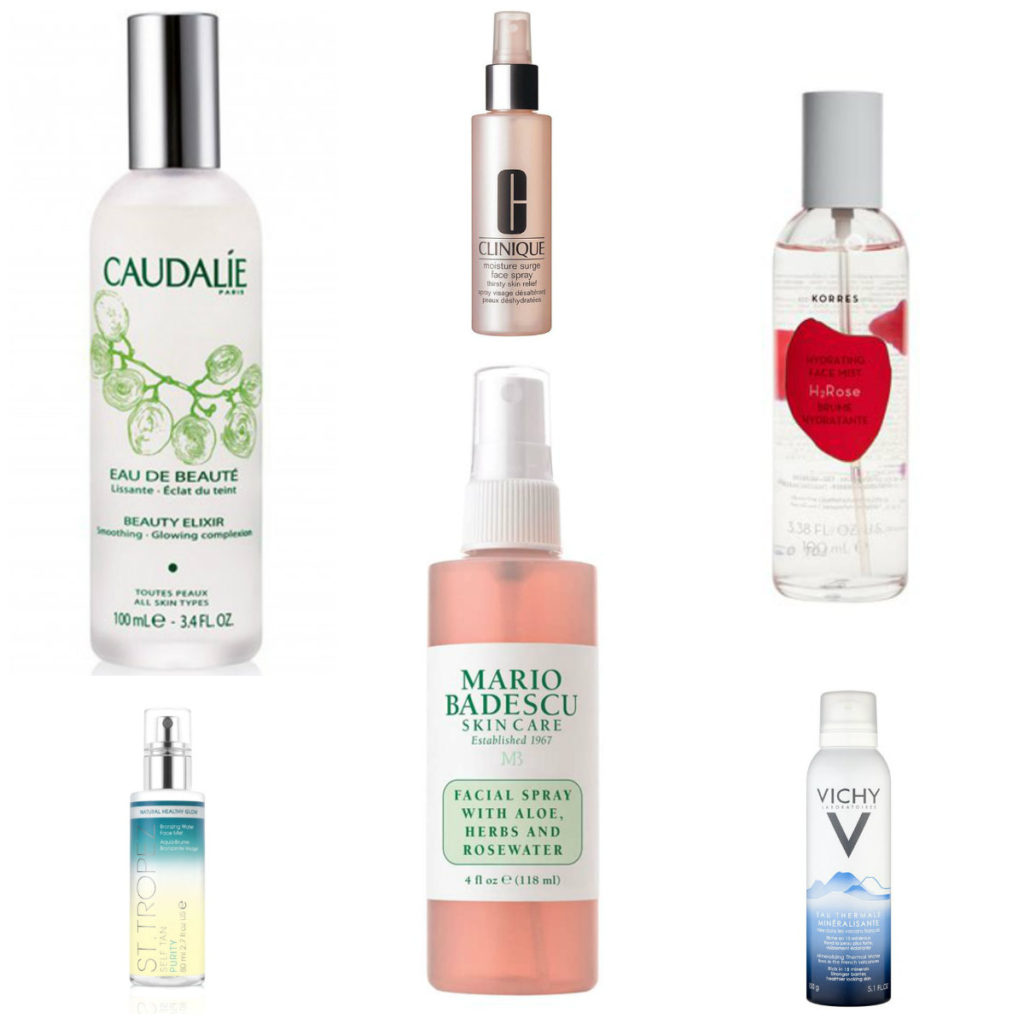 Next up is facial mists. I just love them!!  They are so refreshing when its hot and humid out and they provide much needed relief and hydration during Winter months. Living in Canada has made me realize that applying a moisturizer in the morning is simply not enough, and these little gems provide that extra boost of hydration my skin needs throughout the day.
One of the very first facial mists I've ever used is Mario Badescu's Facial Spray with Aloe, Herbs and Rosewater ($16/236ml). It contains complexion-loving rose and gardenia extracts, skin-softening seaweed extract and clarifying thyme extract to boost and re-energize the complexion. 
Another favourite of mine is the Hydrating H²Rose Face Mist ($44/100ml) by Korres. This hydrating formula contains Rose Damascena water and hyaluronic acid to not only refresh and moisturize the skin but also set makeup!
While most facial sprays offer hydration, the Self-Tan Purity Bronzing Mist ($39/80ml) by St. Tropez also gives skin a natural looking golden tan courtesy of its vegan-friendly tanning agents. The ultra-light mist smells like a tropical paradise and is infused with vegan-friendly ingredients too. 
A mist that reduces redness and soothes irritation is Vichy's Mineralizing Thermal Water ($14.95/150g). Charged with 15 minerals, this soothing spray restores and preserves a steady pH, calms skin and accelerates skin regeneration! (fun fact: this water is actually an ingredient in every single Vichy product).
Clinique's Moisture Surge Face Spray – Thirsty Skin Relief ($32/125ml) is a refreshing, oil-free spray "bursting with moisture and activated aloe water". It helps hydrate, soften and soothe skin in a flash.
And finally, did you know that Caudalie's Eau de Beauté Beauty Elixir ($59/100ml) was inspired by Queen Isabelle of Hungary's elixir of youth? The powerful plant based treatment smooths away fine lines, tightens pores and gives the complexion an instant boost of radiance. It is on the pricey side but I totally get why it has a cult following of celebrities and makeup artists alike. Well there you have it! My top picks for cleansing, toning and misting in the Winter. Did any of your favourite products make the cut?