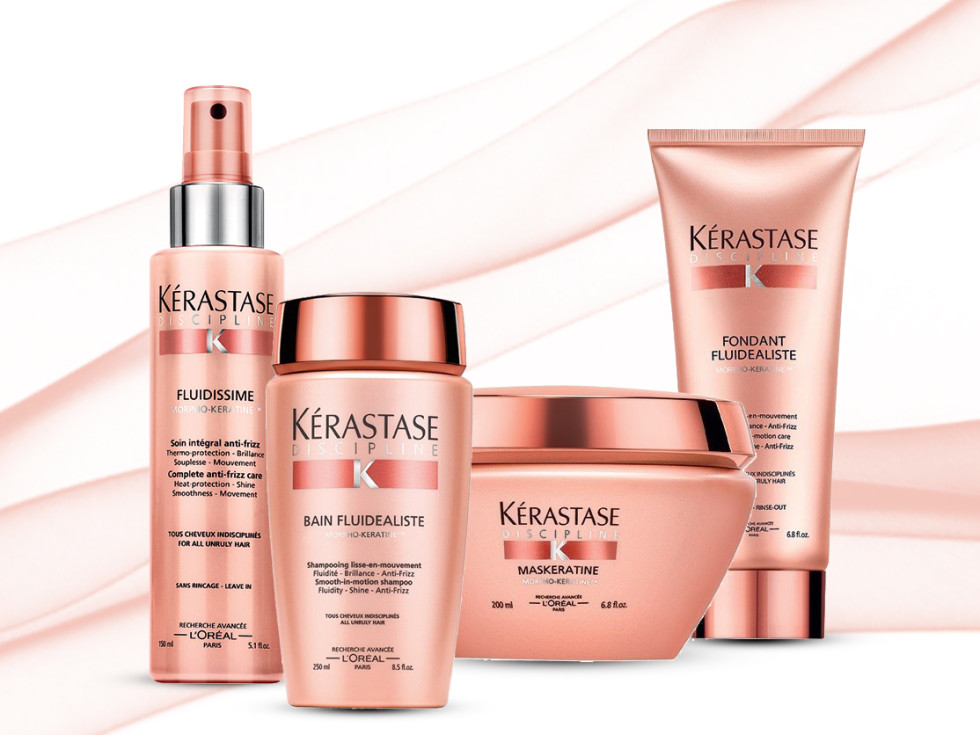 éAs mentioned previously, I've been on quite the hair kick lately. I seem to go through phases with my nails, skin and makeup and this Winter it has been all about perfecting my skin & hair routine! The weather here in Canada has been all over the place… warm one day… rain the next….then unexpected snow? This pattern of unpredictability is exactly how my hair has been behaving. From frizz to dryness to looking dull at times, my hair has had a mind of its own. I recently raved about the StriVectin Max Volume range here, which is great for volume, body and shine but when the Kérastase's Discipline range landed on my desk, I just had to test it out to see how well it performed on frizz. Kérastase makes incredible hair products and I've always said that they are worth every penny that you pay for them, but how did this particular range do at controlling frizz?
If your hair is curly then you feel the "frizz" pain even more than those of us who have wavy or straight hair. Kérastase's Discipline range has been designed to tame even the most unruly hair. The "Morpho-Keratine Complex" also reduces drying time which reduces the time your hair is actually exposed to the damaging effects of heat styling. In addition to their Shampoo, Conditioner & Mask, the range also includes a leave-in heat protectant spray and blow-dry cream.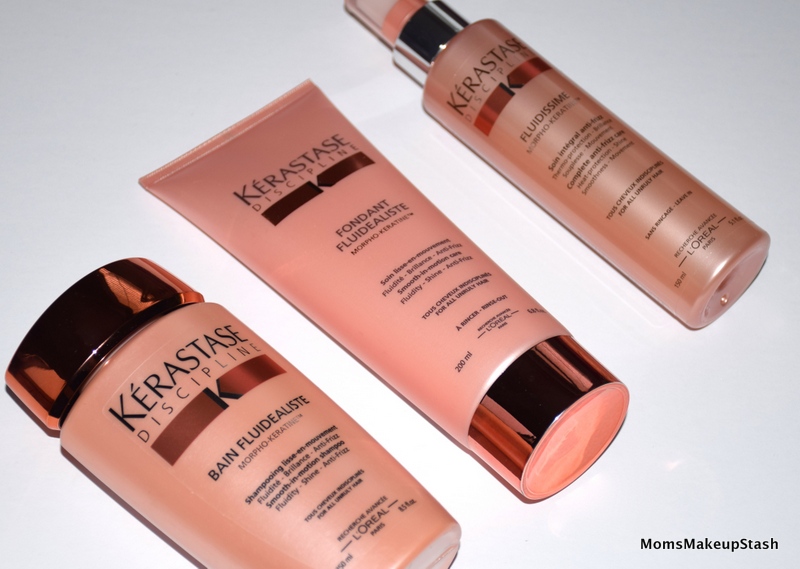 Bain Fluidealiste Smooth-in-Motion Shampoo ($44 CDN/250ml)
This luxurious shampoo is ultra-moisturizing and leaves your hair feeling soft and manageable. It works up a decent lather and is gentle enough to use daily. I don't find the need to wash my hair as often when I use this product since it does a really good job of cleansing my hair. 
Discipline Fondant Fluidealiste ($49 CDN/200ml)
This anti-frizz conditioner makes a great companion product to the shampoo above but I personally prefer the mask (more details on that product below) as I find it to be much more nourishing for my dry/damaged hair. If you have fine hair though, you may prefer the Fondant conditioner over the mask, given that it is more lightweight?

Discipline Fluidissime Spray ($56 CDN/150ml)
The Fluidissime Spray can be applied to either dry or damp hair and requires no rinsing. It reduces friction and protects the hair fibers during any kind of styling. It also managed to "discipline" my hair when it has been both unmanageable and frizzy. This is a great leave-in treatment that smells fantastic and does a wonderful job of keeping hair in its place. At $56, it isn't cheap but I feel that it far outperforms it's drugstore counterparts.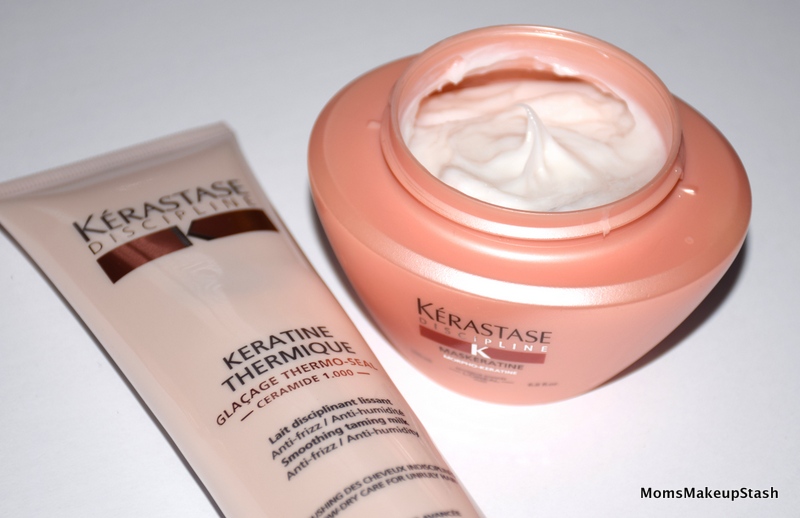 Discipline Keratine Thermique Smoothing Taming Milk ($48 CDN/150ml)
This blow-dry lotion provides in-depth care with smoothing action and a thermo-seal to protect against the damages of heat tools. After washing my hair, I generally like combing through a cream-based product before I proceed with blow drying. This my friends…..well let's just say has been perfection! The pre-styling milk envelopes the hair fiber with a water-resistant shield and keeps hair smooth while protecting it from humidity & heat up to 180° C. Hair is easier to comb & style and looks fabulous once dry!
Discipline Maskeratine Smooth-in-Motion Masque ($66 CDN/200ml)
This mask has a high concentration of nourishing agents and offers in-depth damage repair. It has a stronger dose of the softening agent found in the Fondant Fluidealiste and as I mentioned, I prefer this product over the conditioner to soften and replenish my hair. I apply this product from the ear down because too much of this ultra-creamy formula on my roots can make my hair look greasy. If you were thinking of splurging on 1 of these products, this one would be the one I'd recommend most! 
The entire Discipline anti-frizz range by Kérastase knocked it out of the park for me. The products did exactly what I expected them to do (i.e. controlled frizz, helped tame unruly hair) and my hair has been more manageable overall. I absolutely loved the mask and blow dry cream and would also repurchase the leave in spray. Have you tried this range before? If not, what are you waiting for?