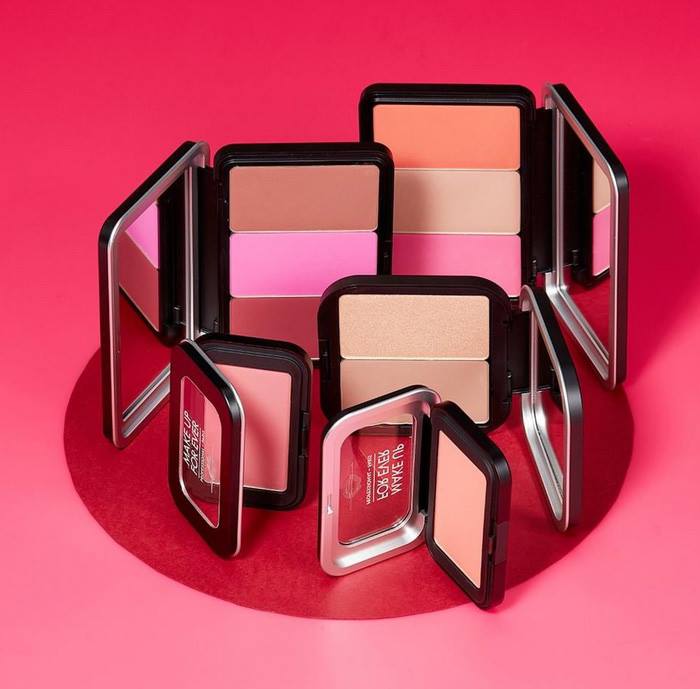 The new Make Up For Ever 

Artist Face Color Powders

($23 USD/$29 CAD)

 are a wonderful collection of powders that you can personally customize by choosing the shades that work best for you! The 
versatile collection of

34 highlighters, sculpting powders and blushes

features a highly pigmented, blendable and long-lasting powder formula, in matte, shimmer, and pearl finishes. The 
powders can be mixed and matched endlessly to create different color combinations for every skin tone and/or preference. Simply choose between a mono, duo or trio palette and choose 1-3 of your favourite shades! It's that easy!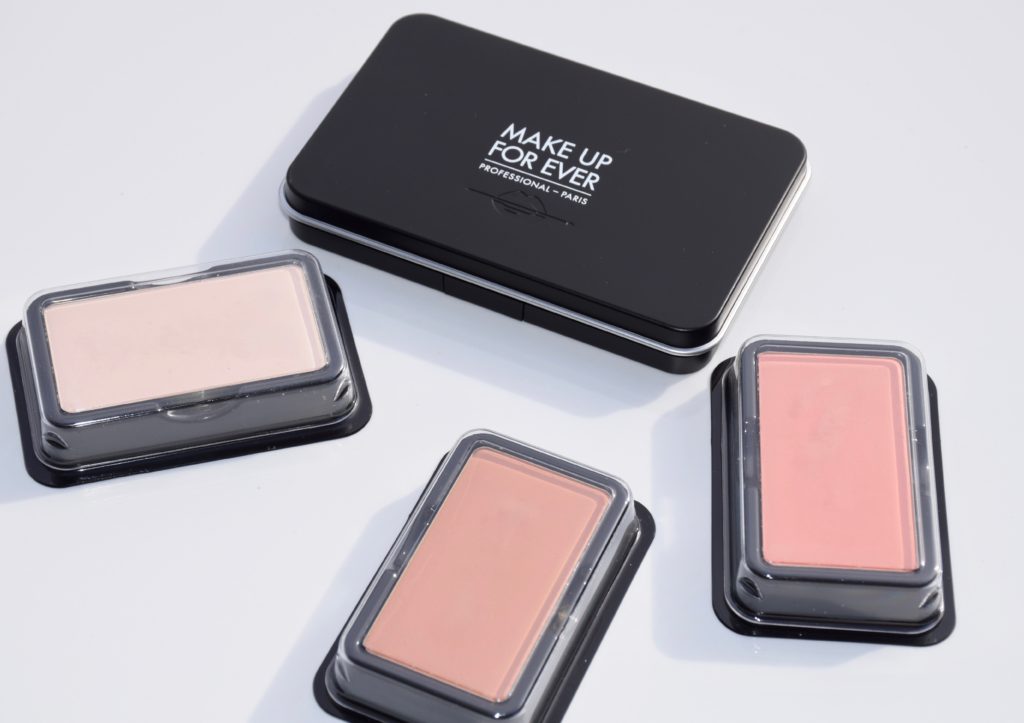 From left to right: MUFE Artist Face Color in H100, S114 & S300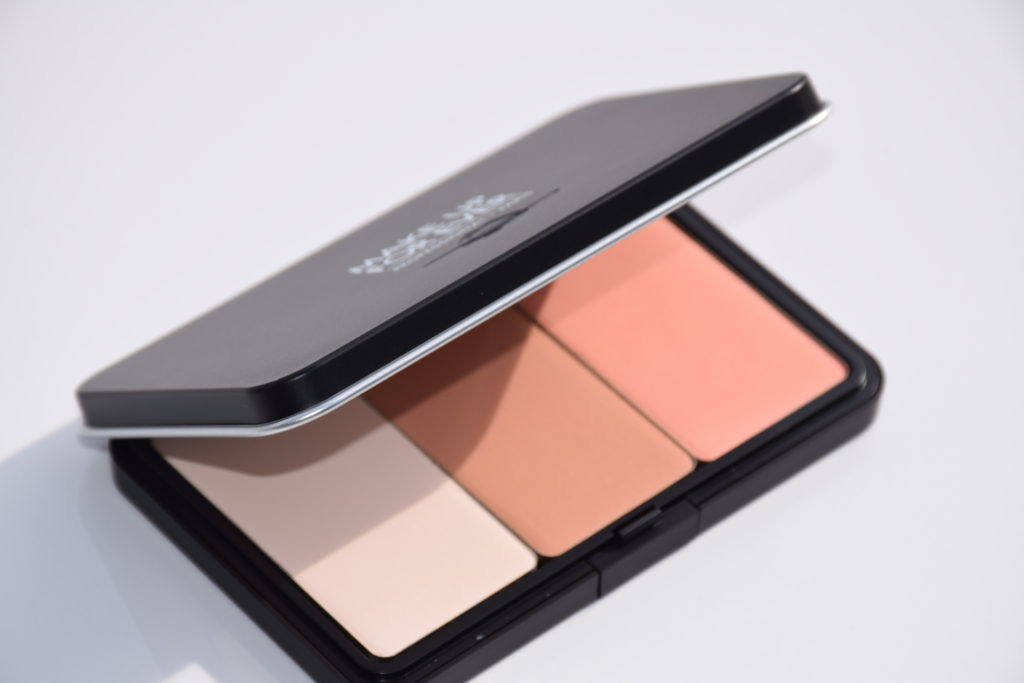 The Make Up For Ever Artist Face Colors feature: 
> Unique atomized pigments and emollient oils that provide uniform, high-impact color
> Finely milled powders that blend easily from intense to natural pigmentation
> Immediate color-payoff which allows for precise placement on the face
> Beautiful matte, shimmer or pearl finishes that don't look the least bit powdery on the skin
Shade Selection
> 6 highlighters (labelled with an "H") in a mix of matte and shimmer finishes
> 10 sculpting powders (labelled with an "S") in all matte finishes
> 18 blushes (labelled with a "B") in mostly matte but some pearl finishes
> Refillable palettes come in single (no mirror), duo (with mirror) and trio (with mirror) options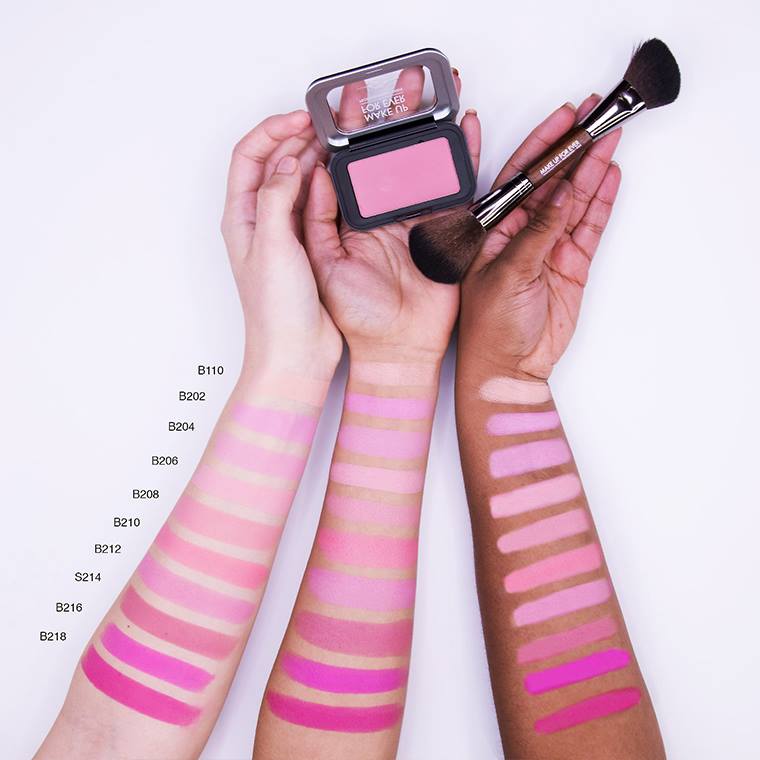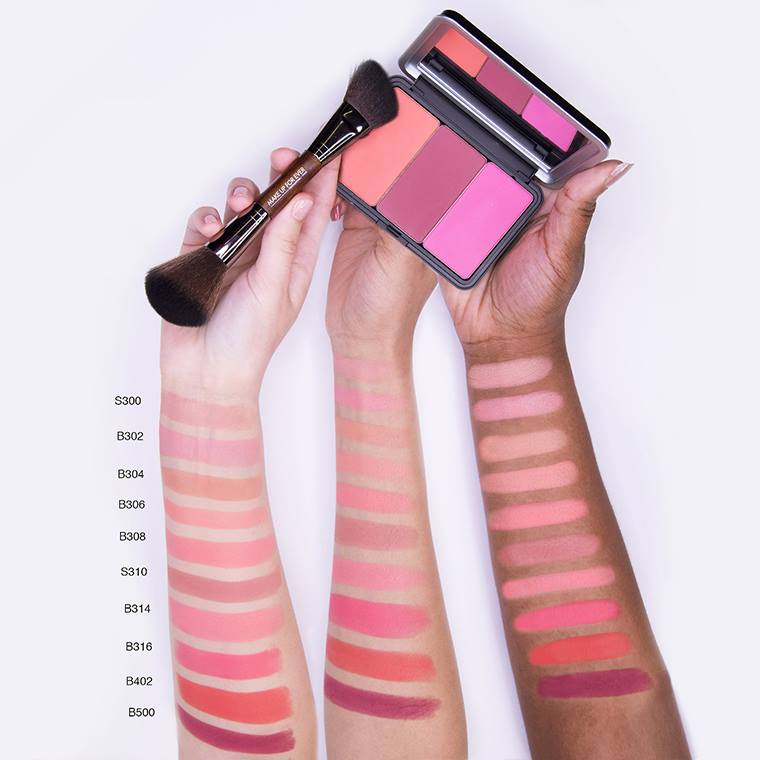 The Make Up For Ever Artist Face Colors are sold as individual pans ($23 USD/$29 CAD) but as mentioned, it is so easy to create your own custom Single ($31 CAD), Duo ($44 CAD) or Trio ($56 CAD) palette shown below. You can also pick up multiple shades and fill a larger magnetized palette of your choice (i.e. MUFE, Z-palette etc.) if you are building your collection or professional kit.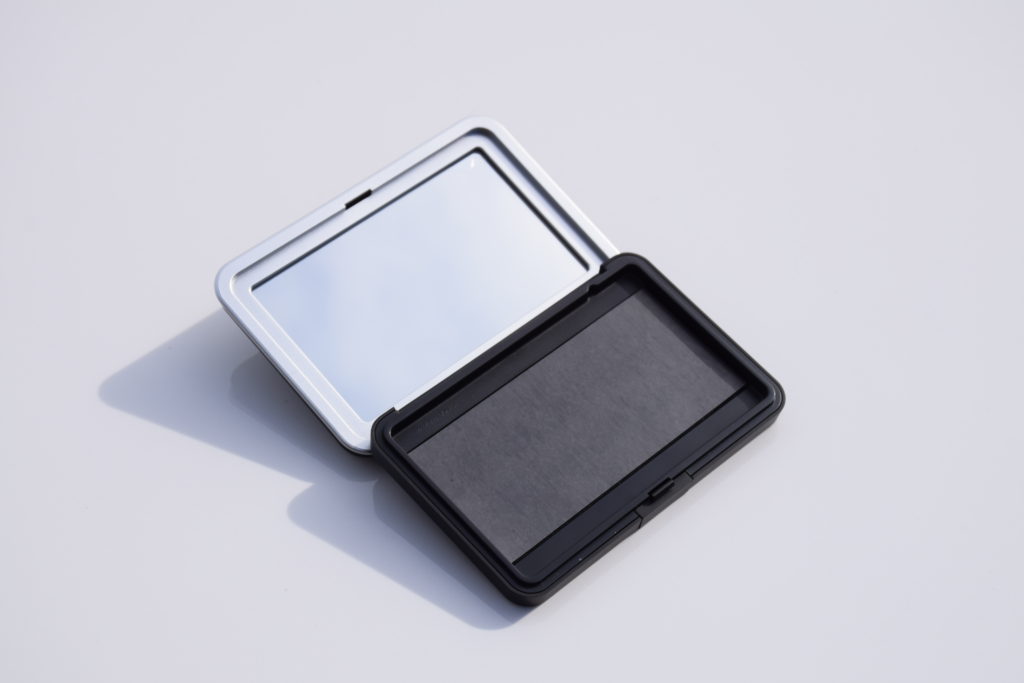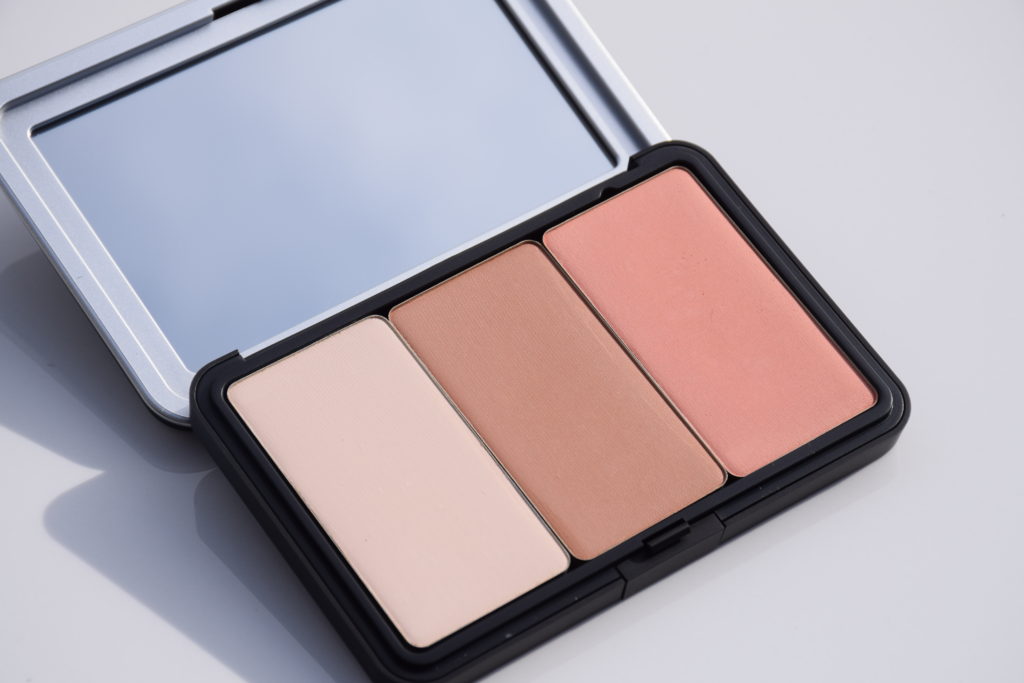 Shade Descriptions (swatches above):
H100

 Matte ivory highlight (pictured)

H102

 Shimmery pink alabaster highlight

H104 Matte eggshell highlight

H106

 Shimmery champagne highlight

H108

 Matte banana highlight

H312

 Shimmery gold copper highlight

S112

 Matte shadow sculpt

S114

 Matte chamois sculpt (pictured)

S116

 Matte medium shadow sculpt

S118

 Matte dark shadow sculpt

S400

 Matte chestnut sculpt

S404

 Matte red-brown sculpt

S502

 Matte violet brown sculpt

B110

 Matte peachy beige blush

B200

 Pearly opal pink highlight

B202

 Matte blue pink blush

B204

 Matte cold pink blush

B206

 Matte peachy pink blush

B208

 Matte english pink blush

B210

 Pearly warm pink blush

B212

 Pearly pink blush

S214

 Matte rosewood blush 

B216 Matte fuchsia blush

B218

 Matte bright raspberry blush

S300

 Matte pastel coral blush (pictured)

B302

 Pearly peach highlight

B304

 Matte camel blush

B306

 Pearly mandarin blush

B308

 Matte coral blush

S310

 Matte praline blush

B314

 Pearly tangerine blush

B316

 Matte red coral blush

B402

 Matte vermillion blush

B500

 Matte plum blush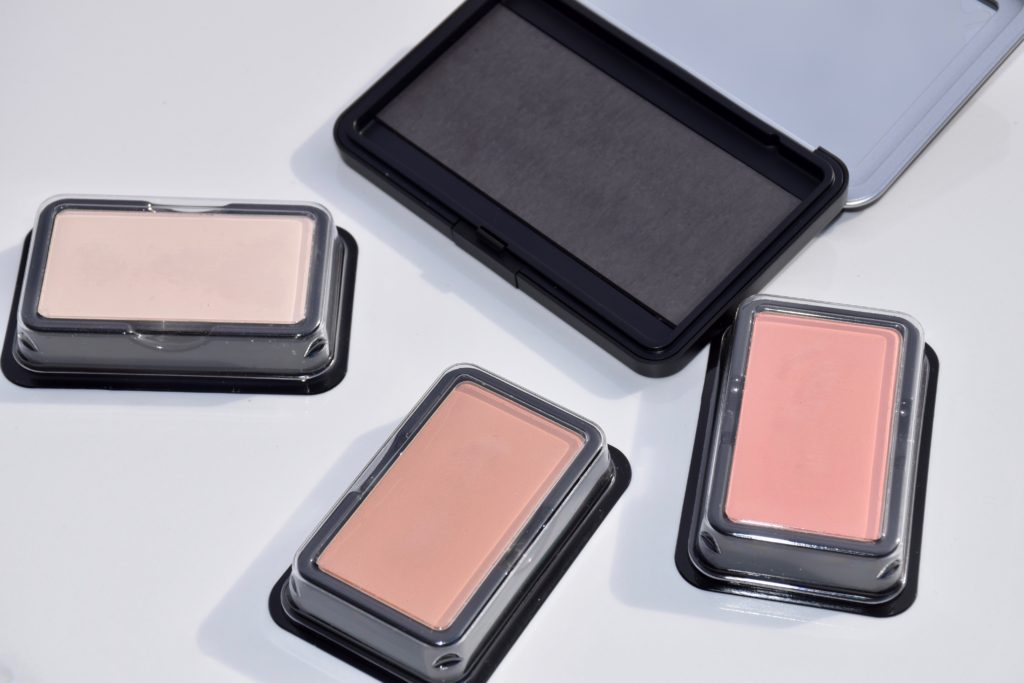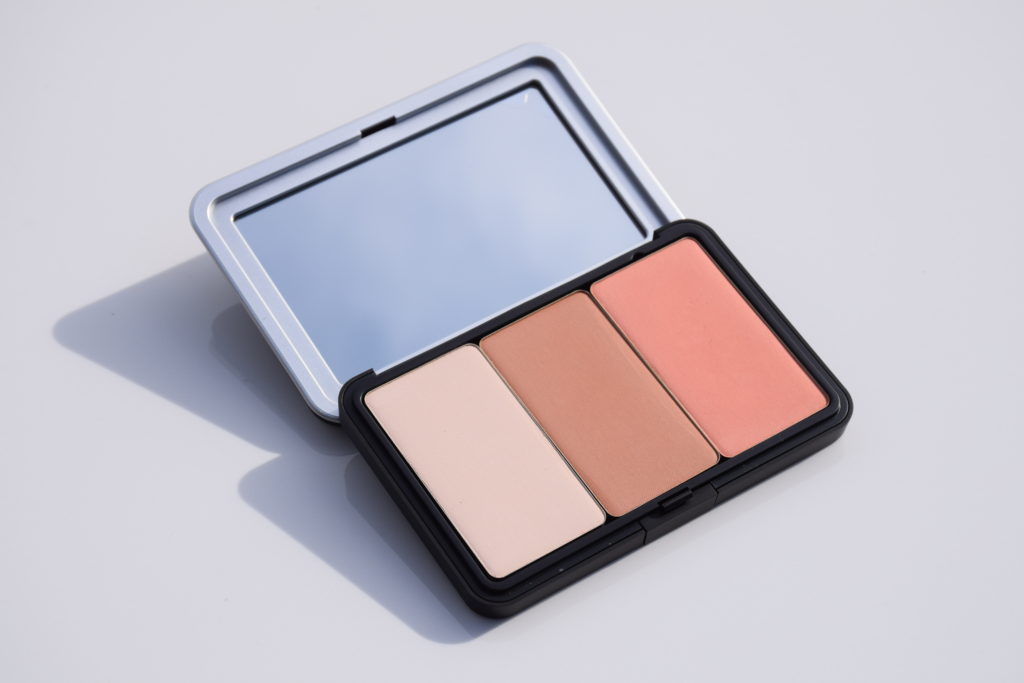 I've been absolutely loving these powders and plan on picking up a few more – specifically H106 & B306 – both shimmery shades since all three of mine happen to be matte. These powders offer incredible pigmentation, a velvety finish and are easy to blend naturally or build up in intensity. A little of each shade goes a long way and creates the most beautiful highlight, contour or flush on the skin! Which one of these amazing shades is catching your eye?