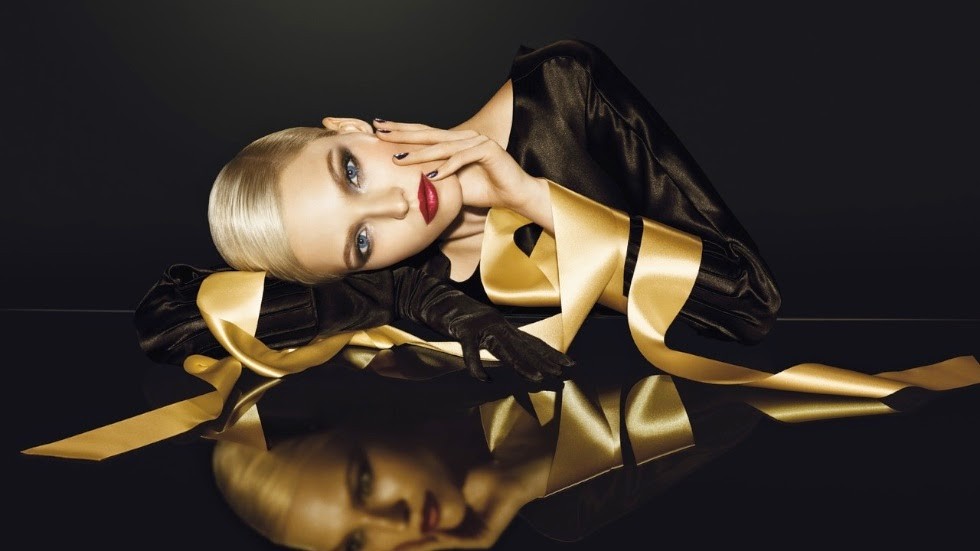 When I first introduced you to Dior's Holiday Collection back in October, I promised to post actual photos and swatches of the collection in all of its beauty. Well, it's that time! Although limited edition, I'm pretty sure that you can still find these coveted products from Dior Golden Shock Holiday 2014 at your local counter and/or Sephora store. This collection marks the return of Dior's beautiful gold packaging that we initially saw in 2013. The nail lacquers come in display-worthy bottles that look like gorgeous ornaments and the highlighter in this collection (exclusive to Holt Renfrew) is an absolute stunner!
"From the inception of the House of Dior, gold has been a signature color of the brand. From Mr. Dior's first creations, which incorporated highlights of rich gold as luxurious accents, to the modern-yet-timeless looks of Raf Simons, which feature metallic gold elements to balance audacious shades of red, pink, blue and yellow, gold remains a constant theme". 
The product that has gotten the most buzz from this collection is the Diorific Golden Shock Illuminating Pressed Powder #001

($82 CAD)

. The luxurious highlighter comes in a small, heavy, gold compact and has the most beautiful sunburst pattern embossed into it with gold overspray. You can use it on your cheek or brow bones, the bridge of your nose, collarbone, temples, décolleté…anywhere you want a subtle gold shimmer highlight. Just use it sparingly for best results! 
The collection also introduces a new Diorshow Fusion Mono eyeshadow ($32 CAD) in the limited edition shade 'Mirror'. The Fusion Mono shadows first popped up in Dior's Fall 2013 collection and have light-reflecting pigments and an extraordinary texture to them. 
The gel-mousse texture weightlessly illuminates the eyes with long-lasting, multi-faceted colour that can be used wet or dry. Because of its gold effect, I like using this particular shade as an all-over wash of colour and then usually follow-up with a few coats of mascara and a bit of liner for a simple yet elegant look. 
Dior lip products are always so luxurious! This collection includes two new shades of Dior Addict Glosses

($31 CAD)

in 'Gold Rain' and 'Pink Excess'. Both have a beautiful iridescent gold shimmer to them. Unfortunately I don't have any of the new Golden Shock Lipsticks

($39 CAD)

to show you but each one features a pure matte colour on one side and an infusion of either gold, crimson red, candy pink, coral or burgundy on the other. I've never seen Dior release a two-tone lipsticks before but these ones look really interesting.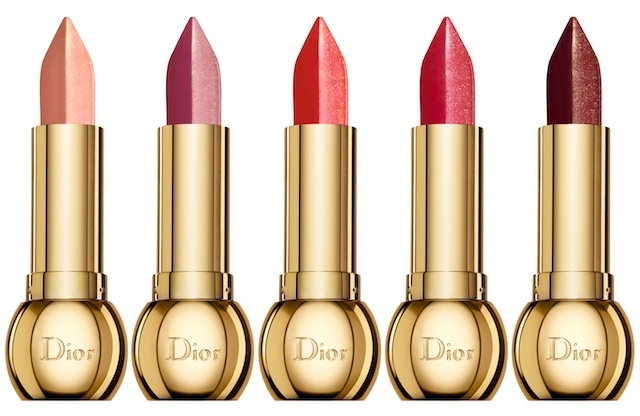 Swatches (L-R:) Dior Addict Glosses in Gold Rain & Pink Excess, Fusion Mono in Mirror & Golden Shock Illuminating Powder (heavy swatch)
The Diorific Vernis 

($28 CAD)

, Golden Shock "it-shades" below include 'Mirror', a semi-sheer pearl with gold shimmer, 'Gold Equinoxe', a pigmented metallic gold, 
'Shock', a vibrant red and 'Smoky', a deep aubergine with a hint shimmer. Each of these shades add a burst of radiance to the nails but my favourite shade is Smoky – a deep vampy shade that looks fabulous in 2 coats. The Diorific Golden Shock Top Coat

($29 CAD)

is a clear lacquer that leaves behind a delicate gold leaf effect that can be worn alone or over your favourite polish. 
Swatches (L-R): Mirror, Equinoxe, Shock, Smoky & Gold Leaf Top Coat

For the eyes, Dior introduced two new Dior 5 Couleurs Eye Shadow Palettes 

($61 CAD)

, "Golden Reflections' – a cool-toned steel grey  combination and 'Golden Shock' – a warmer pinkish plum palette. 
The palettes are similar to those released in the Fall (i.e. new textures, nicer applicators) but have their own Holiday flair with shades that work on a variety of skin tones and with varying eye colours. They include a mix of matte, iridescent and satin finishes. See below for swatches.
What is your favourite product from Dior's Winter 2014 Collection?