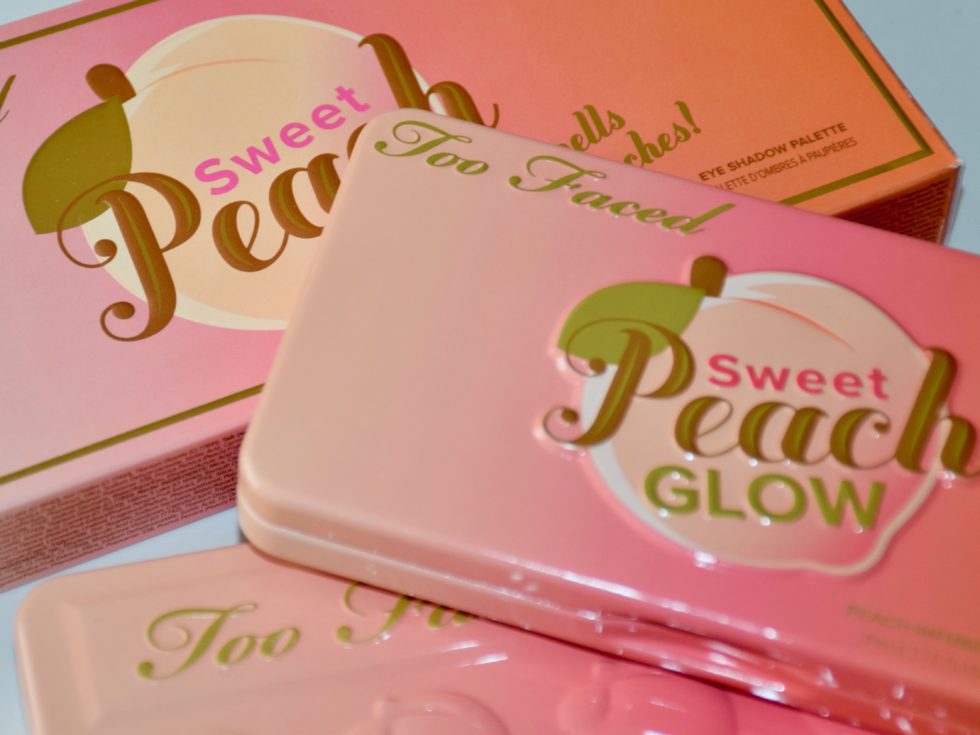 Too Faced's Sweet Peach Eyeshadow Palette ($49 USD/$59 CAD) was initially released as limited edition in the Summer of 2016 and sold out in mere minutes! It was so popular that Too Faced decided to bring the palette back later that year as a permanent product along with the Sweet Peach Glow Palette, Papa Don't Peach Blush (not shown) and Sweet Peach Creamy Peach Oil Lip Glosses (available in 8 shades). All of the Sweet Peach products are infused with the juicy scent and antioxidant-rich essence of peach and smell delicious, but just how well do they measure up to their hype? I had to find out.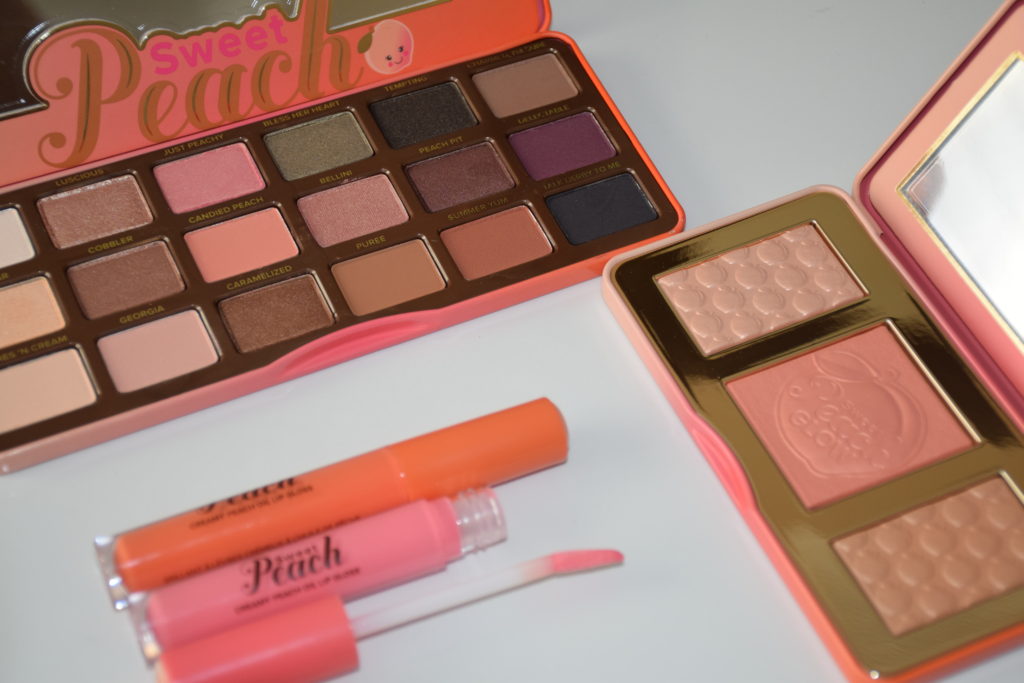 Let's start off with the eye shadow palette. There are 18 shadows included in the Sweet Peach Eye Shadow Palette in both matte and shimmer finishes. The case is a metal tin and very easy to travel with. As for the shade range, it consists of mostly neutrals with a few peach colours and some deeper shades thrown in. The shades are not as "peachy" as I expected but the shadows do work well together and aside from a few of them, have excellent pigmentation. Two of the colours were too similar to each other for my liking and a few of them didn't perform well at all on their own but improved when they were applied over a primer. Standout shades in the palette are Peach Pit, Bellini, Luscious & Caramelized. They are so gorgeous and buttery soft! There are also some wonderful transition shades in the Sweet Peach palette including Summer Yum & Puree but also patchy ones like Delectable. The mattes in the palette are very smooth and easy to blend and the shimmers and satins have a beautiful sheen to them. I did hear some complaints that these shades are hard to incorporate into different looks but this simply wasn't the case for me. A beginner or a pro can use them to create a number of different looks, but if you need inspiration, the palette does come with a Glamour Guide with instructions on how to achieve 3 looks. Overall, this is a great everyday palette for anyone who loves lighter, neutral shades!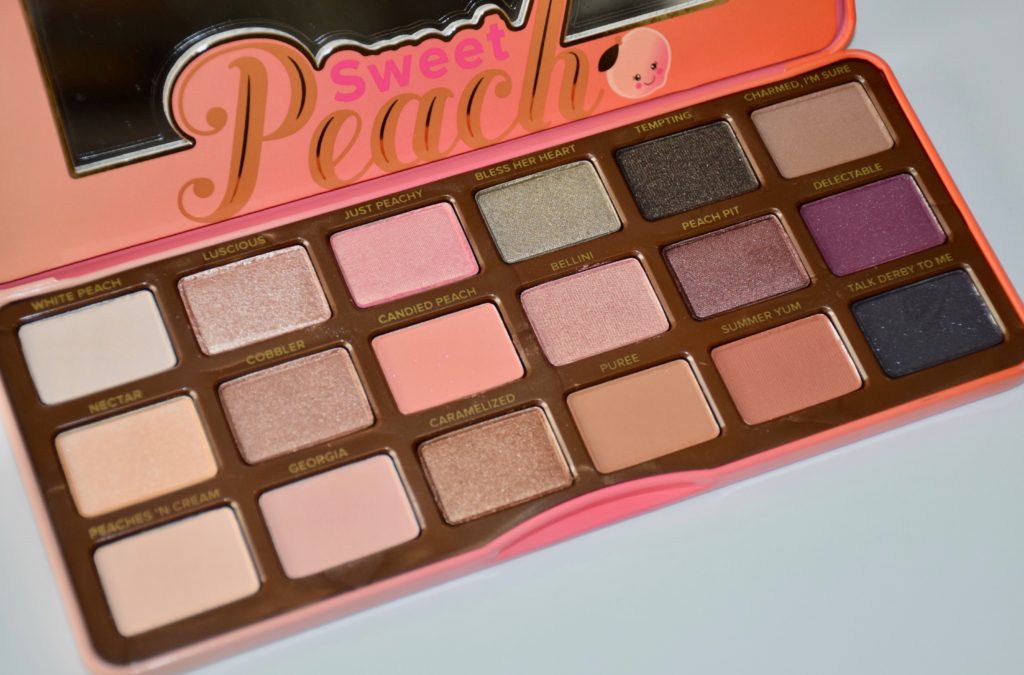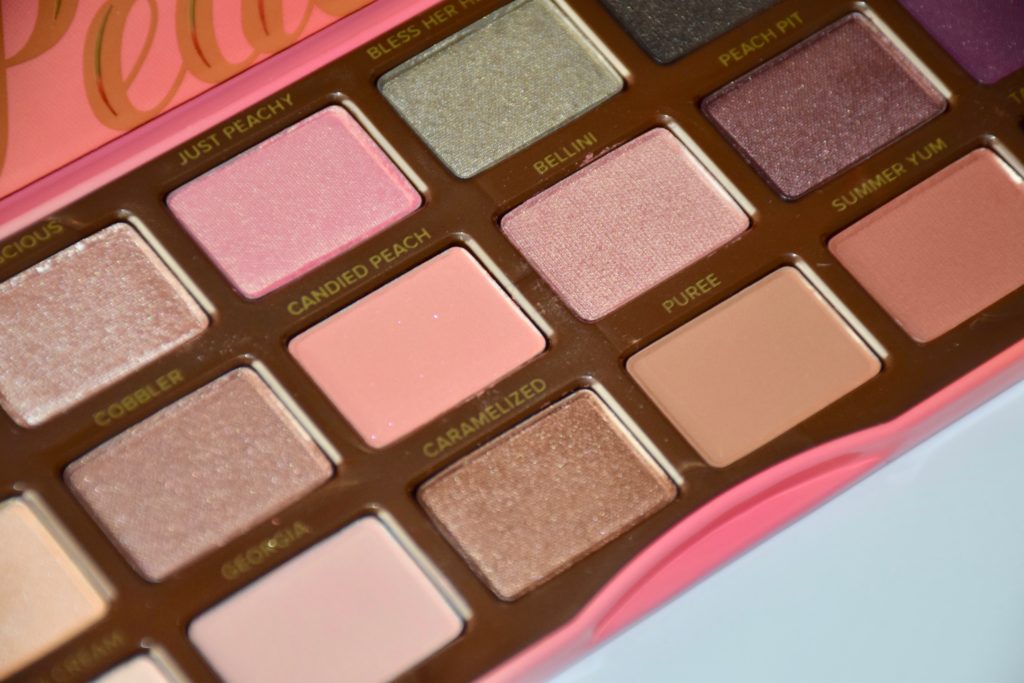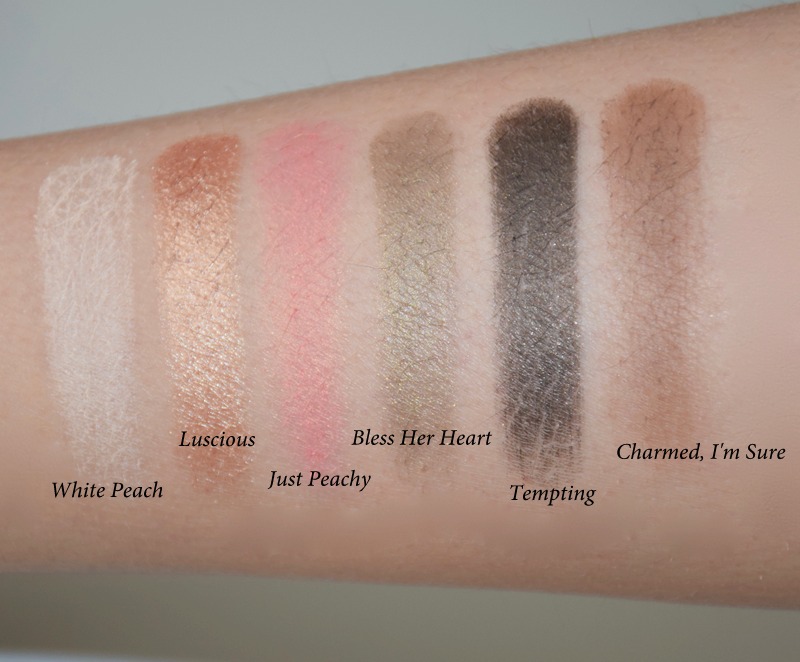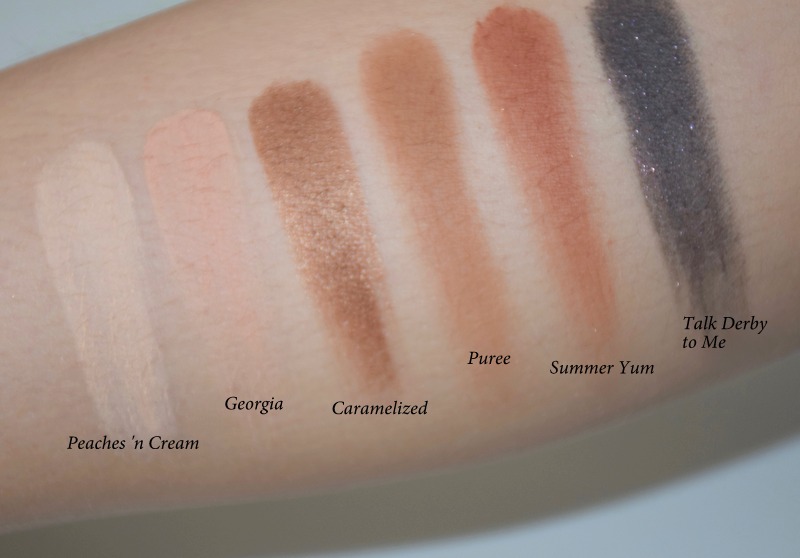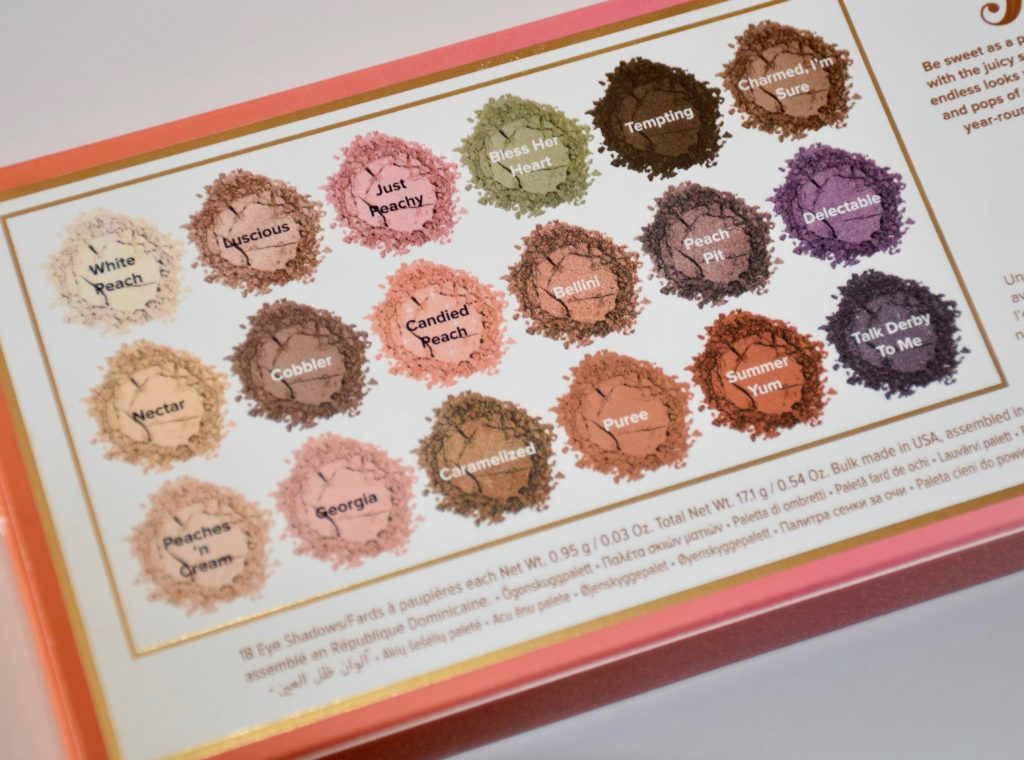 The Sweet Peach Creamy Peach Oil Lip Glosses are infused with peach oil, coconut oil and vitamin E and taste quite sweet on the lips. I actually find them to be very comfortable and appreciate their light to medium coverage since I prefer my glosses to add lustre and a hint of colour to my lips. The formula is very hydrating and nourishing. They come with a long doe foot applicator which makes application easy and are offered in a range of peachy/pink shades ranging from nude to orange. To me these are far more than lip glosses! They actually feel like you are wearing a lip balm or treatment on your lips and I love layering over lipstick or wearing them on their own for a light wash of colour. These glosses were such a surprising hit for me (I didn't think I'd like them to be honest), so much so that I'll likely pick up a few of their lighter nude shades as well.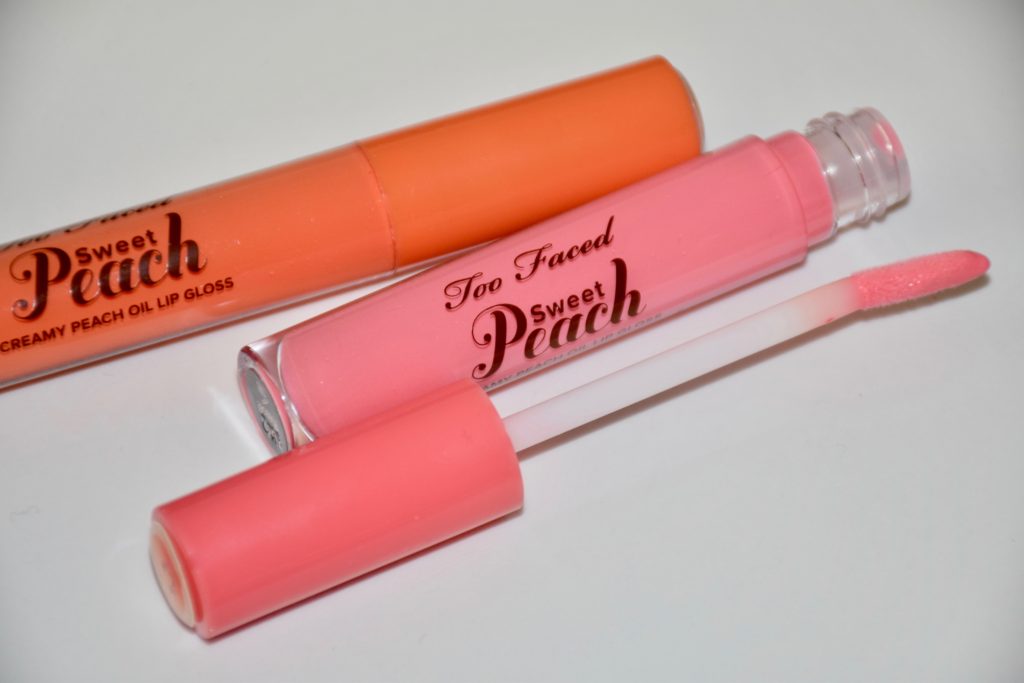 As much as I have been enjoying the shadow palette and glosses, I have to say – I've saved the best product in this collection for last! Too Faced's Sweet Peach Glow Palette contains a highlighter, blush and bronzer. It is absolutely beautiful and is embossed with small peaches and an imprint of "Sweet Peach Glow" on the actual powder. The blush is about double the size of the highlighter and bronzer which are both housed on either side of it. I really love this palette and find myself reaching for it often! It is perfect for anyone with fair-medium skin tones and gives the nicest sheen to the skin when applied with a duo fibre or tapered face brush. As you can see from the swatches, the shades are quite light but I didn't have any difficulty building them up for more intensity when required. I do find however, that they look better over a primer and on hydrated, moisturized skin.
The highlight shade in this palette can be described as a warm, golden peach with a metallic sheen. It reminds me a lot of Benefit's new Dandelion Twinkle. The blush is a warm, medium coral with a golden shimmer. I don't have anything quite like it in my collection but MAC's powder blush in Style is similar. The bronzer has gold/yellow undertones but is a beautiful medium brown and has a lovely sheen to it. I would say Tarte's Park Avenue Princess is similar but more shimmery in comparison.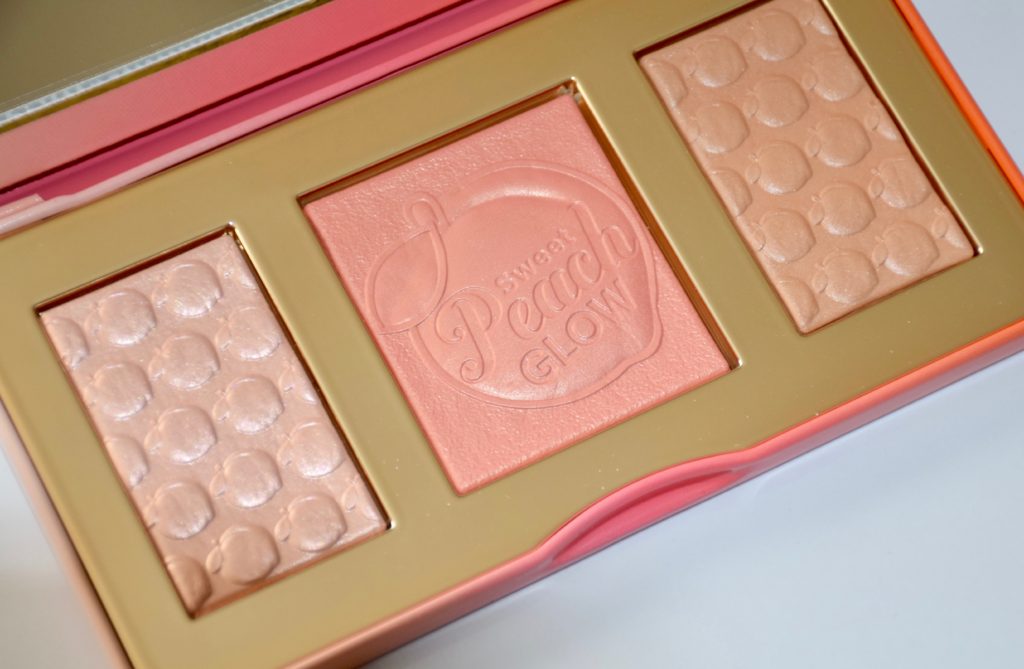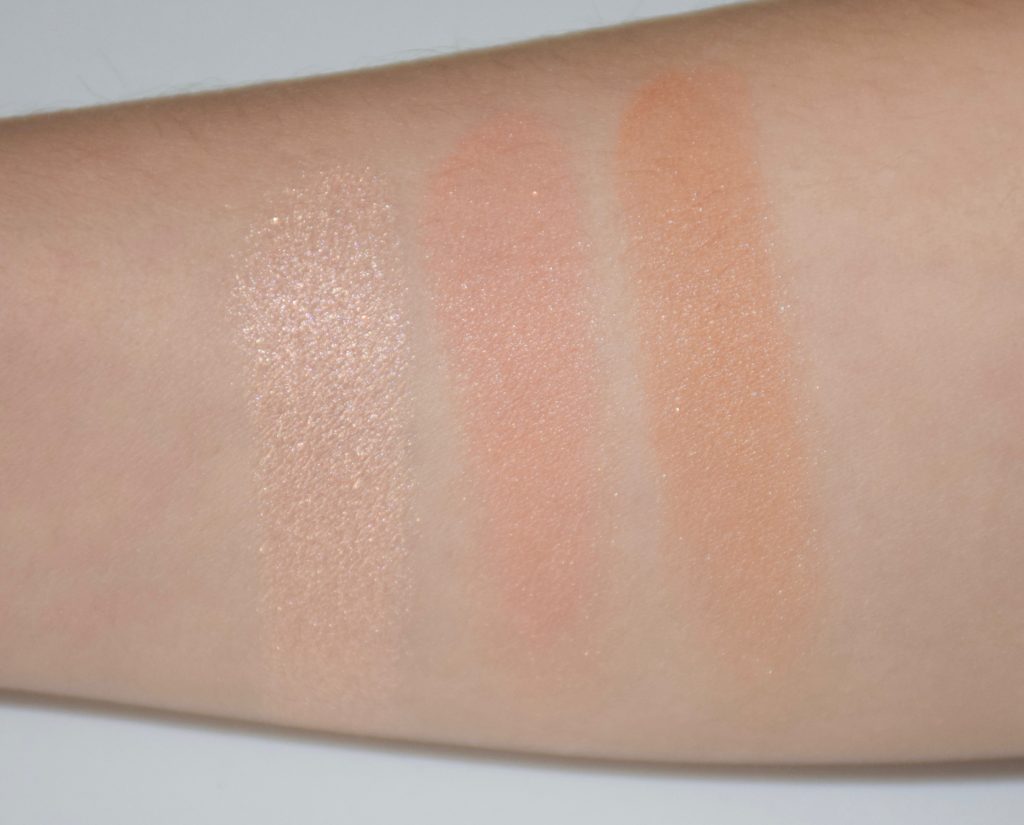 Overall, I can totally see why the collection got so much attention and continues to do so well! Too Faced did an incredible job and I'm not even a fan of peaches. I will say though that the hero products for me (lip gloss & glow palette) were likely meant to be supporting stars to the eye shadow palette which happened to be my least favourite. Fair skinned beauties will love this collection as will anyone who is a fan of Too Faced's scented products or the brand in general. Have you tried out anything from this collection?